Written, under the order of
Prince Odoievsky-Maslov
, Chief of Administration of the Imperial Court in Moscow, by S. de Bartenev
Ceremonial Bedroom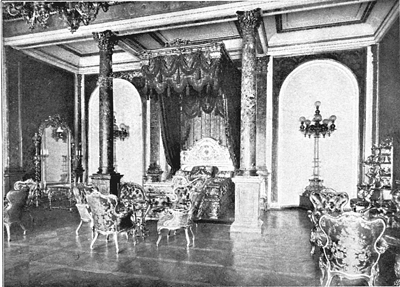 In front of the bed are two monolithic columns in grey green marble (verde antico) wich are unique in Russia because of both their size and value.

Applied to the walls are two pilasters of this same marble and eight more in verde di ponzerva.

All around the short room runs a cornice in ornamented marble.

On each side of the bed, in niches, are crystal candelabras, the work of the Imperial Glassworks, on dark red French marble pedestals.

Next to the central window is an elegant fireplace made of blue green jasper made by the Ekaterinburg factory. Atop the mantle are a clock and two candleabras.

Remarkable doors in the Boule manner are the work of Blechschmidt.