Written, under the order of
Prince Odoievsky-Maslov
, Chief of Administration of the Imperial Court in Moscow, by S. de Bartenev
St Catherine Hall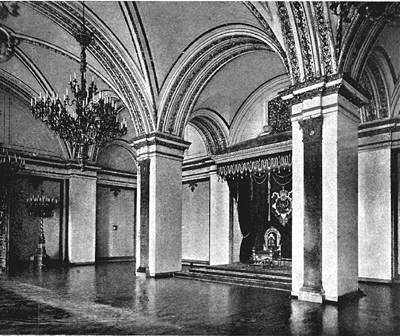 This room is the Throne Hall for the Empress in her function as the Grand Mistress of the Order of St. Catherine.

The order was founded 24 November 1714. It commemorates the fact that Peter the Great, in 1711, escaped the Turks at the battle of Pruth. In memory of that happy occassion, the ladies decorated with this Order are required to "ransom with their monies a christian found under the barbarian yoke."

The letters D. s.f. R between the arms of the cross of the Order stand for "Domine salvum fac Regem" (Ps. 19 v. 10).

The motto "For Love and the Nation" is inscribed in silver letters on the Order's ribbon.

The Throne of her Majesty the Empress, is raised up three steps covered in red velvet, and is placed between four square pillars on whose face is inlaid four malachite pilasters, remarkeable in both workmanship and price. The capitals and bases are in bronze, their pedestals are in marble. The capitals carry in their medallions the cypher of Empress Catherine I, the first head of the Order.

On the backside of the throne, and the cieling of the dais, upholstered in red velvet, is also the cypher of the Empress embroidered in gold.

In the corners of the hall are four more malachite pillars. The walls are upholstered in pink moire silk with silver borders. The top is adorned with the solid insignias of the Order, strewn as if with diamonds, and surrounded by bows of ribbons also in the colors of the Order and bearing its motto.

The doors are decorated in the same manner, with gilded ornaments on a silver background.

Between the windows are two enormous crystal candelabras atop marble pedastals, made by the Imperial Glassworks. Next to the doors are four more candelabras also in crystal, but on pedistals of french marble, deep red with white veins.

On the days of the grand ceremonies, the employees of the Court, in a row alongside the Horse Guards, will be found in this room, as well as the Ladies of this Order and the other Ladies of the Court.