Written, under the order of
Prince Odoievsky-Maslov
, Chief of Administration of the Imperial Court in Moscow, by S. de Bartenev
Our-Savior-in-the-Forest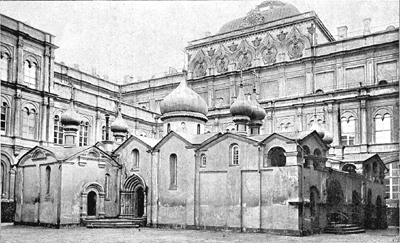 Through the windows of the Corridor of the Maids of Honor we can see into the interior courtyard of the ancient Church of the Savior-in-the-Forest, or Cathedral of the Transfiguration.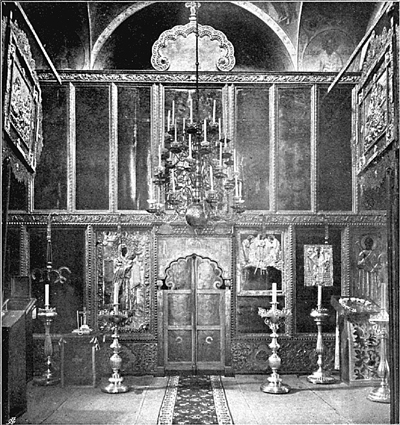 Iconostasis of "Savior-in-the-Forest"


"Parvis" or Portico of "Savior-in-the-Forest"

This is the second of the Churches built in Moscow and the most ancient of all those still existing to this day.
Up until the founding of the Convent of the Ascension, this church served as the burial place for the Grand Duchesses.
The church of the Savior was built literally in the forest, which, in the the 12th century, covered the entire hill of the Kremlin, and was located, according to local tradition, on the site of the hut of the hermit Bukala. Grand Duke Ivan Danilovich ordered, on 10 May, 1330, the construction of a stone church on the site of the previous wooden one. It was annexed to the convent of the village of Danilovo.
It was at the convent of the Savior-in-the-Forest that the Grand Dukes and Grand Duchesses at the time of their death, spoke the vows and took the ascetic veil. The arch-priests who arrived in Moscow were lodged there. St. Stefan of Perm lived there, while he had come to see Metropolitan Kiprian; after just one month, he died there, and was buried in the Church. His relics are still found there.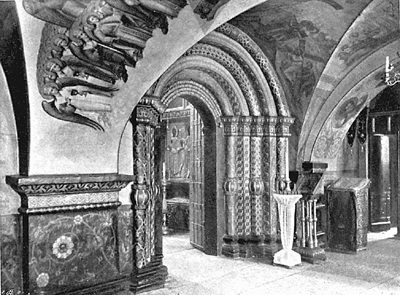 Doorway to the Church of the "Savior-in-the-Field"

During the 18th century, after the capital had moved to St. Petersburg, the Church of the Savior fell into abandon.
In 1812, many precious objects belonging to the other Churches were hidden in the Church of the Savior, and were thus saved from looting and destruction.
Between 1857 and 1863 this church was restored one last time. The icon painter Rogozhkin made Images similar to those in the Cathedral of St. John the Precursur in Yaroslavl.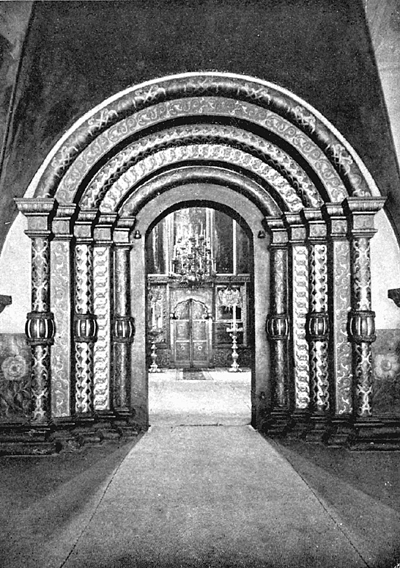 Doorway to the Church of the "Savior-in-the-Forest"
Altar of the Three Confessors
In the Church of the Savior, set on a lectern and preserved in a glass case we find the miraculous Icon of the Misericord Savior. The ancient oklad of the icon is covered in mica. It was brought to Rome by the Greek Princess Zoe (Sophie) Paleologue, wife if Ivan III, and was one of her personal icons.