Written, under the order of
Prince Odoievsky-Maslov
, Chief of Administration of the Imperial Court in Moscow, by S. de Bartenev
Golden Hall of the Tsarina
This room is entirely covered in gold, paintings and ornamentation. With its ancient chairs (seven in number) with its original windows, its vaulted cloister arches, gilt iron grillwork, it forms the best part preserved of the former palace.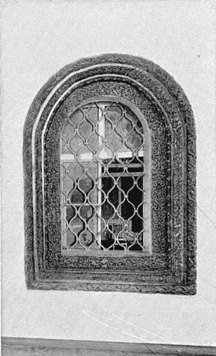 The paintings on the walls and on the vaults are of very old work, one can even discover from outlines traced in the holes, preserved in places, of the Byzantine style of design. This can be seen, for example, in the thin sword of the knight next to the window on the left.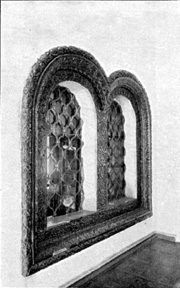 The ornamentation on the walls, arches and window frames as well as the sculptures of the supports and lintels of the entry door, on the side of the Lodgings of Those in Service, are of a pretty ancient design. The double windows and the exterior frame of the windows, which one notices from the Cathedral Square are also precious vestiges of eras past.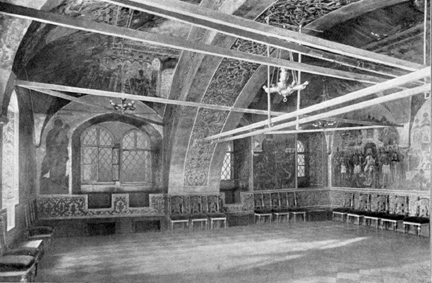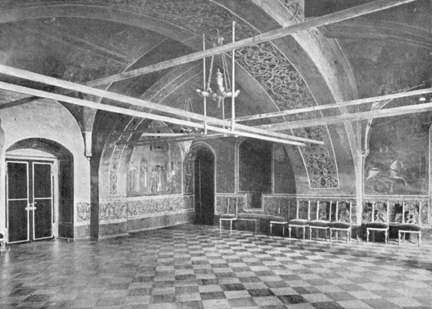 The subjects painted on the walls are particularly noteworthy for the representations of the ancient palace and churches of the second phase, are the following:
1. West side, left of the entry door: Council regarding Theophile the Iconaclast.
2. A bit higher, to the left of the entry on the north wall: Legend of Tsarina Dinarya (daughter of Alexander, king of iberia) who fought the Persians.
3. In the left corner, next to the window: Victory of Saint Dmitri of Salonica against Batyi-Khan
4. The slopes of the arches: The three Orthodox Holy Empresses Irina, Theodora, Sophie and Great Princess Martyr Saint Olga.
5. In the middle of the arch, next to the entry: The Exaltation of the Holy Cross by Empress Helena.
6. One the vault, next to the arch by the window: The Apparition of the Holy Cross to the Most Orthodox Emperor Constantine.
7. On the East and West Vaults: Visit of Saint Olga to Constantinople and her Baptism.
8. On the right of the exterior windows: God the Father
9. On the grillwork of the exterior windows: the Deisis (Holy Virgin, The Savior and St. John the Baptist)
10 In the double window: the Holy Trinity
11. Between the side windows: St. John the Evangalist
12. In the grillwork of the windows which open out on the Terems Gallery: The Face of the Savior.
13. On the side of the north door, near the window: The Holy Martyr Theodore Tiro
14. Between the outside windows: The Mother of God.
The Golden Hall was built at the end of the 16th century and served as the reception hall of the Tsarina. Easter Sunday, here she would receive the greetings of the Tsar Patriarch and Clergy.