Written, under the order of
Prince Odoievsky-Maslov
, Chief of Administration of the Imperial Court in Moscow, by S. de Bartenev
Imperial Apartments
Antechamber:
A Boule armoire. On top of the armoire, an ancient clock, very valuable, by Johann Beeraellter of Ulm. The small clock hand is in the shape of a turtle, the large hand is a small snake.
The Silver Drawing Room: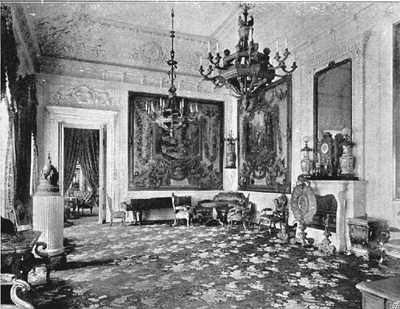 The mirrors, chandeliers, tables and the fireplace screen are all made of oxidized silver, which gives this room the name "Silver Drawing Room". The table and chandeliers are in the Louis XVI style. On the walls are four magnificent Gobelins tapestries, made by Cozette in 1756, depicting scenes from Don Quixote (below).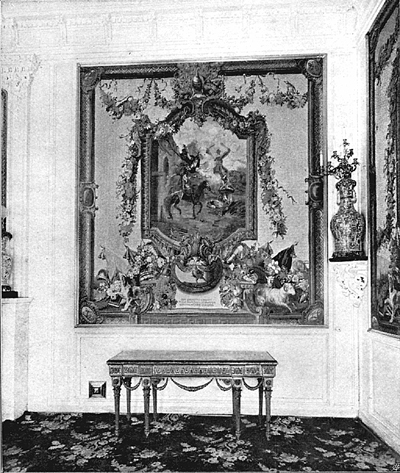 On a bronze pedestal is a model of the monument of the Thousand Year Millenium of Russia, erected in Novgorod in 1862. On the white marble fireplace mantle is a Boule clock.
Second Drawing Room:
In the ceiling vaults are medallions made to the designs of the celebrated Danish sculptor Thorvaldsen (1770-1844). On the wall is a large painting by Svertchkov, "A Pilgrimage of Ivan the Terrible". Two armoires and Boule vitrine.
Bedroom:
Four armchairs, a table, commode and a bureau all by Boule, inlaid with silver, bronze, ivory and tortoiseshell, all marvelous workmanship.
Study:
On the walls are very pretty sepia copies of "St. Madelaine" by Battoni, and "St. John the Baptist" by Hannibal Cranach. These copies are the work of the academician Zeidelmann. They were bought by Emperor Alexander I in Dresden in 1814, during his trip. On one marble fireplace is a Boule clock, the work of Baltasar of Paris. A Boule table. In the corner, two three legged tables, most original, in the same style.
Reception Room: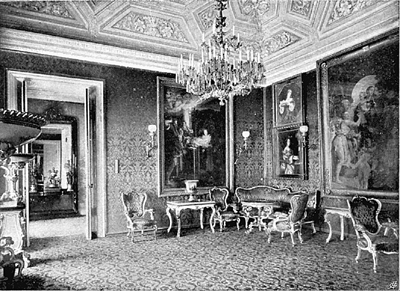 Marble tables in the Pompeian style. Fine sepia copies by Zeidelmann, the same size as the originals:
No. 268: Correggio: Adoration of the Magi. Original in Dresden.
No. 274: Raphael: The Sistine Madonna. Extremely accurate copy. Original in Dresden.
No. 269: Corregio: Madonna. Original in the Hermitage Museum, St. Petersburg.
No. 170: Carlo Dolce: Woman with a basket. Original in the Hermitage.
No. 171 & 172: Carlo Dolce: Saint Cecilia. Original in the Hermitage.
No. 273: Rembrandt: Holy Family. Original in the Hermitage.
Antechamber:
On a console, very old French clock, movement by Martin of Paris; two horizontal circles turn to mark the hours and minutes. On each side, two superb candleabras from the end of the 18th century. Next to the door, two handsome marble sculptures representing Les Amours.