Written, under the order of
Prince Odoievsky-Maslov
, Chief of Administration of the Imperial Court in Moscow, by S. de Bartenev
Paintings Gallery
Painting Gallery: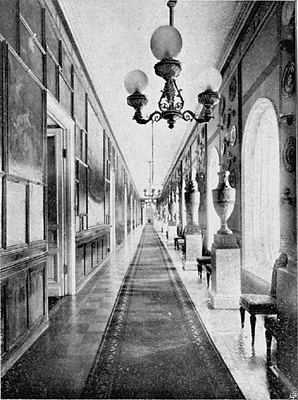 It runs the complete length of the previously described rooms of the Imperial Apartments and is lit by sixteen windows which look out to the Courtyard of the Horse Corps.
The paintings form to cover the entire interior wall and their frames are made from the same material. the paintings come from the Hermitage, the Royal Castle of Warsaw and private collections, such as Counts Sukhtelyene, Tatitchyev, Muzin-Pushkin and others. The most noteworthy are the six paintings by Bacciarelli (end of the 18th century) on the subject of the history of Poland:
1. No. 35: Passage of the laws "The Statutes of Vislitsa" by Casimir the Great in 1347
2. No. 36: Re-establishment of the Academy of Cracow by Ladislas Jagellon in 1402
3. No. 92: Oath sworn in 1466to the King of Poland Casimir Jagellon by the Warlord of Chelminsk Gabriel Bayzene, in the name of the Prussian people.
4. No. 124: Re-joining of Lithuania and Poland in 1569 during the Diet of Lyublin, under the reign of Sigismund August
5. No. 149: Jan Sobieski compels the Turks to end the siege of Vienna in 1683.
6. No. 180: The successor to Hetman Chodkiewich Lanskaronski signs the peace treaty with Turkey at Chotzim in 1621, under the reign of Sigismond III in the presence of the Heir to the Throne Ladislas.
Other paintings by other painters:
No. 11. Rocky Coastline by Salvator Rosa
No. 17. Landscape by Breughel
No. 28. Portrait of a Sforza Woman, nee Visconti, attributed to Leonardo da Vinci
No. 38. Portrait of a Man by Titian.
No. 48. The Marriage Feast at Cana by the School of Titian
No. 84. View of Dordrecht by Van Goyen
No. 100. St. John the Baptist by Raphael Mengs
No. 127. Holy Family, Dutch School
No. 137. Five Heads by Rubens
No. 141 Four figures by a Fireplace attributed to Rembrandt
No. 143. Mohammed by Van der Eyckout, student of Rembrandt
No. 154. Landscape by Paul Brill
No. 161. Head of a Young Man, anonymous
No. 231. Portrait of a Man by Moroni
No. 254. Landscape by Pietr de Laar, called Bomboccio.
On the walls between the windows of the gallery are displayed the plates given as gifts to his Majesty Nicholas II at the time of His coronation.
Next to the windows of the gallery are beautiful vases from the time of Catherine the Great and Alexander I made by the Imperial Porcelain Factory.