Written, under the order of
Prince Odoievsky-Maslov
, Chief of Administration of the Imperial Court in Moscow, by S. de Bartenev
St. Catherine Church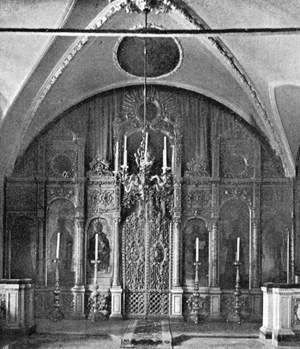 The Church of St. Catherine the Martyr, called "on the Stair Landing of the Tsarina"
This church is found under the Church of the Resurrection.
It was built in 1627 by the architect John Taller, on the foundation of a wooden church which had burned.

In the 17th century, it was the personal church of the Tsarinas and Tsarevnas.
It lead by wooden passageways to their apartments, located north of the Palace of the Terems.