Written, under the order of
Prince Odoievsky-Maslov
, Chief of Administration of the Imperial Court in Moscow, by S. de Bartenev
St. Andrew Hall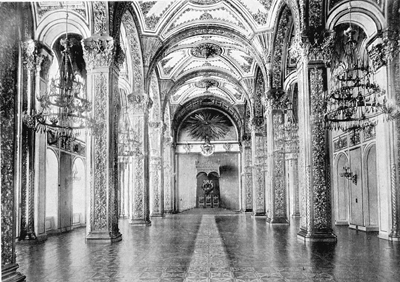 The St. Andrew's Hall is so called in honor of the Order of St.Andrew instituted by Emperor Peter I on 10 March 1698. Their motto is "For Faith and Fidelity." The arms of the cross have at each end the letters S.A.P.R (Santus Andreas Patronus Russia)

The hall of the Throne of St. Andrew, with its Gothic vaults, two rows of square pillars and the "All-Powerful Eye", emitting its rays onto the Imperial Throne, recalls a temply by its architecture, and symbolizes the sacred dignity of the Soverign Power.

The Imperial throne sits atop a dais in the manner of the ancient Throne of the Tsars. The six steps leading up to it are covered in material of gold brocade. On days of the grand ceremonies, the dais is adorned with a magnificent ermine tent.

To the right of the Imperial throne is the throne of Dowager Empress, and to the left is the throne of Empress Alexandra Feodorovna. On the backs of these thrones one may see the initials of Their Majesties.

The capital blocks and ceiling of the dais carry the symbol of the Sovereign Power, the Imperial Arms of Russia. On the wall, above the dais are the same arms. On the sides, the double headed eagle with the cross of St. Andrew on its chest. Beneath the vaulted arch, the All Powerful Eye in a circlet of gold rays.

The capitals of the ten gilt pillars are adorned with the insignia of the Order, and the gilt doors carry the chain of stars of the Order of St. Andrew.

The fabrics are the color of the ribbon of St. Andrew, covering the walls and are also adorned with the chains and specific star of the Order.

Above the door opening into the St. Alexander Hall, the ciphers of Emperor's Peter I, founder of the Order, who drafted the statutes, and Nicholas I who had the hall built in honor of the Order.

Above the windows, the arms of the governments and provinces of Russia.

The two violet grey jasper fireplaces are remarkable, as the stone is extremely hard and the work alone cost 7,000 rubles. The jasper came from Siberia, where it was mined from the banks fo the Korgon River. It is of Russian manufacture from Kolyvane, Tomsk government.

in this hall, as in all other throne halls, there is no other furniture.

The parquet floor is the same as the two preceeding halls.

The hall is lit by ten bronze chandeliers, engraved with the Imperial eagle and insignia of the Order, and 35 sconces on the walls with 2,095 electric lights. On the interior wall opposite the windows are false windows glazed with mirrors.

On the days of the grand ceremonies, the military powers will gather in this hall.