Written, under the order of
Prince Odoievsky-Maslov
, Chief of Administration of the Imperial Court in Moscow, by S. de Bartenev
Terrace of the Savior-on-High
The construction of the Great Palace made this Terrace a sort of vestibule lit from each side by bays.

It is separated from the platforms of the St. Vladimir Hall by three arcades, enclosed by an ancient gilded grillwork, preserved intact.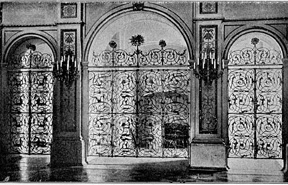 The ornamentation of this grill, it paintings, its gold and many colors create a most original work. the monsters are interlaced with the ornamentation.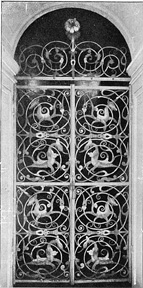 This grill was cast in 1670 from copper coins retired from circulation because of being too worn.