Written, under the order of
Prince Odoievsky-Maslov
, Chief of Administration of the Imperial Court in Moscow, by S. de Bartenev
The Upper Stone Courtyard
A terrace runs completely around the Little Terem (Teryemok) which in the 17th century was called the "Upper Stone Courtyard." To the west is found the little "Pleasure Tower" or Belvedere which was mentioned earlier, with its colored glass panes.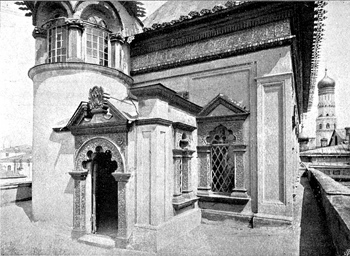 The Belvedere

To the north-east side, a pavilion roof rises up to crown a large handsome staircase which gives access to the third floor of the Terems; its stairs and supports are both ancient and sculpted.

The pavilion, as like the doorways of the Little Terem, is adorned with sculptures in the stone which represent squirrels, parrots, lions, unicorns, griffons and other mythical creatures, Silene with bunches of grapes, as well as centaurs. In the center of the archivolte of the Eastern door is the figure of a pelican, the symbol of Christ.

From this high platform of the Terems one discovers a splendid view of the city of Moscow with its multicolored edifices, the crosses and domes of its numerous churches. It is a picture of incomparable beauty and a profound historical education, considering that, in all of these churches, these walls, these Kremlin towers, these golden domes, the towers of the Terems and the massive fortress of the Great Palace, speak of the things of the past, the ancient traditions and the sacred heritage of the ancient Russian Orthodoxy.