Service of Wines
Formerly at dinner a different variety of wine was poured for each course. At the present time this is rarely seen.
In many houses, where means are unlimited, but one wine - claret - is served throughout the meal. When guests are bidden, often champagne takes the place of the claret.
When two wines are served, choice is made of Burgundy and champagne.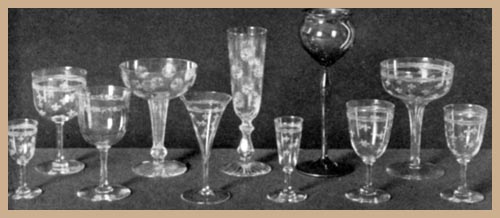 Above: Assortment of Wine Glasses
When three wines are desired, pale sherry is served with the soup and champagne thereon until the dessert, when port and old claret are brought in.
When a different variety of wine is served with each distinct course, the classification is as follows:
With appetizer, sometimes a cocktail, oftener nothing. With oysters, sauterne. With the soup, pale sherry. With the fish, hock or sauterne. With the entrees, claret or Burgundy. With the roast, champage. With the game, Burgundy. With cold dishes and hot or cold sweets, champagne. With dessert of cheese, port wine. With coffee, liqueurs.
TEMPERATURE AT WHICH WINES SHOULD BE SERVED
The temperature at which wines should be served varies with the wine; champagne and similar wines are at their best when chilled considerably. Sauterne and Rhine wines need to be moderately cool; if too cold or unchilled, the fresh, agreeable flavor is lacking. Claret and Burgundy are best at the temperature of the average living room. Port, sherry and Madeira lose in flavor and body being chilled.
The following schedule; compiled by an English expert, gives the temperature in degrees, Fahrenheit, at which wines should be when poured into the glasses at table.
Sherry, 40F. Sauterne, 50F. Claret, 65F. Burgundy, 70F. Champagne, 35F. Port, 55F. Madeira, 65F.
Wine should not be chilled by putting ice into it; it should be chilled before decanting. To cool champagne, an hour before it is to be served lay the bottles in a cooler or basin, place ice broken into pieces on them, being careful to keep the necks of the bottles free from the ice; then cover the whole with a piece of flannel wet in cold water. Turn the bottles occasionally, to chill uniformly.
Sometimes coarse salt is added with the ice, this will cause the wine to chill more quickly. In about 25-minutes, when salt is used, the wine will contain little flakes of ice and is ready for serving. In cooling champagne, no less than in cooling a fruit syrup, we take away from the body and flavor; and, while all champagne is better for a slight chilling, none but a very rich, fruity wine should ever be frapped. Ward McAllister, the famous authority of wines says, "In serving for one who likes it cold, the wine should br cooled sufficiently to form a bead on the outside of the glass into which it is poured. It is pretty, and the perfection of condition."
Champagne is served from the bottle. Decant claret, Burgandy, and sherry before serving them; sherry should be decanted and left in a cold place one hour before dinner.
Claret and Burgundy brought from a cool cellar make be changed to a luke-warm temperature by carefully disposing the bottles in warm water or near a fire.