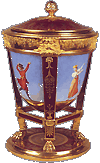 Ice Bucket. 1809-1817. Height 39 cm. (27 1/8 in.).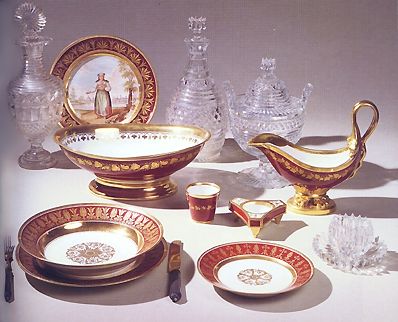 above: Pieces from the Guriev and Ministerial Services, glassware, silver and porcelain.

THE GURIEV SERVICE, 1809-1817

---

Named for Count Dmitri Alexandrovich Guriev, Director of His Majesty's Cabinet during the reign of Alexander I, who ordered the service. Intended for the Winter Palace in St. Petersburg. Originally known as the Russian Service, it was renamed for Guriev in 1848, when the service was transferred from the Winter Palace to Peterhof for setting the formal table in the Catherine House of Monplaisir.

The pieces are decorated with ornamental gold vegetation on an overglaze brick red ground. In the reserves are polychrome depictions of scenes whose subjects are taken from Johann Gottlieb Georgi's "Folk Types of Russia" and Christian Gottfried Geissler's "Petersburg Scenes and Types, " and also of St. Petersburg and Moscow copied from work F. Alekseev, M. Vorobiev, and S. Shchedrin.

The gilded, sculptured details of the vases, created from models by Stepan Pimenov and I. Komander, play a significant role in the service's design and depict peasant and folk types in classical dress.

The setting included dinner, desert and tea sets. It was orginally created for fifty place settings. In the second half of the nineteenth century it was expanded to include more than 4,500 pieces.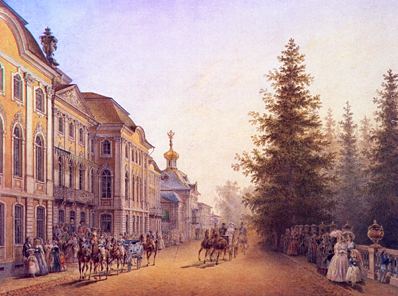 above: The Court Going out from the Grand Palace in Peterhof
Vasili Semenovich Sadovnikov (1800-1879)
watercolor. 30.3 x 36.6 cm. (11 7/8 x 14 3/8 in.)





Compote. 1899. Height 18.2 cm. (7 1/8 in.).