INTRODUCTION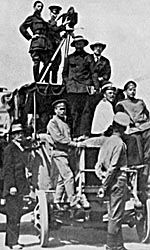 In late 1916 Captain Donald Thompson as photographer and Florence Harper as reporter were sent by Leslie's Weekly magazine to cover the Russian front in WWI for an American audience. The American public was increasingly focused on the war - and our government would soon be entering the war on the side of Allies, who were lead by France, Britain and Russia. Americans as a whole knew little about Russia, although they were intriqued by its exotic customs and constituted the largest group of tourists to Russia in the years before the war. The American press speculated that America entered the conflict she would fight on both fronts and this created interest in Russia's struggle against the Axis powers on the Eastern front.
Assuming they were coming to cover the war, Thompson and Harper arrived in time to find themselves unexpectedly dodging revolutionary bullets on the streets of Petrograd in February 1917. They and their publishers realized the rare opportunity they had at hand to document a revolution in pictures and personal experiences.
Thompson and Harper had a unique opportunity to witness the disintegration of Russia into chaos as it occured step-by-step from February until August 1917. They made unique contacts through Americans who had been in Russia throughout the war assisting in hospital work or fighting with the Russian Army. In some cases they became a part of the story they were covering. Harper became a nurse herself and worked in a Russian hospital run by an American. We are fortunate that Thompson and Harper were journalists whose focus was the pictoral documentation of events for they have left us a fascinating record of what they witnessed. Unfortunately, Thompson and Harper missed the Bolshevik coup in October 1918 as they left Petrograd in August and pictures of these fateful events are missing from their book.
Left: Captain Thompson on top of a car photographing events in Russia. Thompson is the man standing behind the camera wearing a cap.
After leaving Petrograd, through many adventures and a final harrowing escape from Russia through Siberia, they arrived in Japan with their valuable negatives intact. Their picture book "Blood Stained Russia" was rushed to press and hit the street in late fall 1918.
The original book has 201 photographs from which collection of 30 is but a small selection. I am sorry not to have been able to reproduce the entire book, but that would have been a major task taking more time than I could alot to this project. I hope that you will find the pictures I have chosen interesting. The picture menus are broken into three pages in oredr to reduce load time. You can click on any image or the headline to view a large version of the picture. The captions are the originals and reflect the attitudes of the times.
Bob Atchison
Your comments are appreciated.