ZOOM Fabergé Eggs - Swan Egg
1906 Easter gift to Maria Feodorovna, workmaster unknown
Swan Egg (1906)
Materials -
Egg: gold, matt opaque mauve enamel, rose-cut diamonds, portrait diamonds
Miniature swan: quatre-couleur gold, silver-plated gold, aquamarine
Dimensions: Height of egg: 100 mm. (3 7/8 in.) Width of egg: 73 mm. (2 7/8 in.)
Length of swan: 55 mm. (2 3/16 in.)
Owners: Fondation Edouard et Maurice Sandoz, Lausanne, Switzerland
This gold egg is covered with matt mauve enamel within a twisted ribbon trellis of rose-cut diamonds, with a four-looped bow at each intersection. The top, carefully designed to conceal the division when closed, is surmounted by a large portrait diamond covering the year; another is set in the base where the recipient's monogram probably once appeared.
Lifted from the egg by a handle formed of water lilies in four colors of gold, a miniature lake is revealed composed of a large aquamarine, also richly decorated with water lilies, upon which rests a superbly chased silver-plated gold swan. When wound up under one wing, chased gold feet guide the bird along its course; it wags its tail characteristically. The head is raised and the wings are opened and spread to display each feather separately.
Scholars had suggested this egg was a gift to Alexandra Fedorovna since mauve was known to be her favorite color in which her sitting room was decorated. It is still known as the Mauve Sitting Room. Later research revealed that the egg was a gift from Tsar Nicholas II to his mother, the Dowager Empress Marie Fedorovna at a cost of 7,200 rubles.
The miniature swan is modeled after James Cox's Silver Swan in the Bowes Museum, Barnard Castle, County Durham, England. Fabergé probably saw the Cox Swan when it was displayed at the 1867 Paris Exposition Internationale Universelle.
From 1939-1954 King Farouk of Egypt was the owner. Since that time chemical magnate Dr. Maurice Sandoz and later the Fondation Edouard et Maurice Sandoz of Lausanne, Switzerland, have been the owners. The egg has been seen only twice in Swiss exhibitions since the mid-70.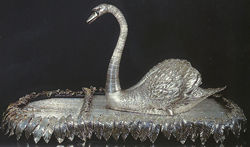 Model for the Swan Egg, Bowes Museum, Branard Castle, England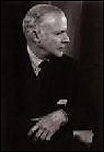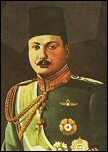 Swan egg owners: Maurice Sandoz (left) and King Farouk (right)