My birth - My mother's disappointment - The Berlin zoo - My great-grandmother - My grandparents - My parents - My brother Nicholas.
I was born on March 24, 1887, in our house on the Moika Canal, at St. Petersburg. The evening before, my mother went to a ball at the Winter Palace and danced the whole night through. Our friends thought this was a sign that I would be gay, and a good dancer. They were right as to the gaiety, but wrong about the dancing.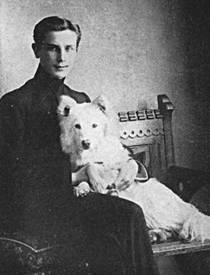 Right: Felix as a boy.
I was christened Felix. My godfather was my mother's father, Prince Nicholas Yussupov, and my godmother was my greatgrandmother, the Comtesse de Chauveau. During the christening, which took place in our chapel, the priest almost drowned me in the baptismal font, into which, according to the Orthodox rite, I had to be plunged three times. It seems that I was revived with the greatest difficulty.
I was so puny on coming into the world that the doctors did not think I would live more than twenty-four hours, and so ugly that my brother Nicholas, then aged five, cried out on seeing me: "Disgusting! Throw him out of the window."
My mother, who had already had three sons, two of whom had died in infancy, was so certain I would be a girl that she had ordered a pink layette for me. To make up for her disappointment, she dressed me as a girl until I was five years old. Far from making me feel ashamed, this on the contrary, made me very vain. I used to call out to passers-by in the street: "Look, isn't Baby pretty?"
One of my earliest memories is connected with a visit to the Berlin zoo, during a stay in that city with my parents.
On that fateful day I wore, for the first time, a sailor suit which my mother bad just bought me, and a sailor hat trimmed with ribbons. I carried a little cane, and thus attired off I went with my nurse, as proud as a peacock.
We had no sooner entered the park than I noticed some small carts drawn by ostriches, and I badgered my nurse into allowing me to get into one. All went well at first, then suddenly the ostrich bolted and careered madly down the drive with me clinging to the seat as the cart swung from side to side. The bird came to a stop on reaching its cage. The guards and my poor nurse rushed up and lifted out a terrified little boy who had lost his hat and his smile in the adventure.
While I was a student at Oxford, I passed through Berlin and, remembering the zoo, felt an urge to visit it again. I gave some peanuts to an enormous female ape called Missie, and she took such a fancy to me that the keeper offered to let me enter her cage along with him. I accepted without much enthusiasm, and Missie showed her joy by embracing me in her long arms and hugging me to her hairy bosom. These transports of affection were not very enjoyable, and my one idea was to escape but, when I turned to go, Missie started to scream at the top of her voice; to pacify her, the keeper decided we should all three go for a walk. So I offered my arm to my new-found friend and promenaded through the park with her, to the joy of the passersby who stopped to photograph us.
I never failed, whenever I was in Berlin, to pay my girl friend a visit. One day, I found the cage empty: "Missie is dead," said the keeper, and his eyes filled with tears. I was as moved as he was. This ended my visits to the Berlin zoo.
When a child, I bad the rare good fortune of knowing one of my great-grandmothers, Zenaide Ivanovna, Princess Yussupov, Comtesse de Chauveau by a second marriage. I was only ten when she died, but she still remains deeply impressed upon my memory.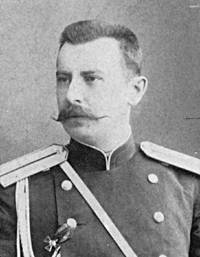 Right: Felix's father.
She was one of the most beautiful women of her generation. She had led a very gay life and had had numerous love affairs, among them a romantic attachment for a young revolutionary whom she followed to Finland where he was interned in the Sveaborg Fortress. She bought a house on a hill facing the prison in order to be able to gaze at her beloved's window from her room.
When her son married, she gave the young couple her house on the Moika Canal in St. Petersburg and went to live in Liteinaia Street in a smaller replica of the Moika residence.
When I was sorting her papers long after her death, I discovered, among a mass of correspondence with the greatest names of her day, a series of letters from the Emperor Nicholas 1, which left no doubt as to the nature of their relations. In one of these letters the Tsar offered her the Hermitage, a pavilion in the park of Tsarskoe Selo and invited her to spend the summer there, in order to be nearer him. A draft of her reply was pinned to his letter. Princess Yussupov thanked the Tsar for his charming attention, but refused his gift, saying that she was used to living in her own houses, and the number of her estates was amply sufficient for her needs. However, she bought a piece of land adjoining the Imperial Palace and built a pavilion on it which was an exact copy of the one offered by the Tsar. Both the Emperor and his wife frequently visited her there.
Two or three years later, having quarreled with the Tsar, she went abroad. She settled down in Paris and bought a house in the Parc des Princes. All Paris of the Second Empire flocked there. Napoleon III took a great fancy to her, but his advances met with no response. At one of the balls given at the Tuileries, a handsome young Frenchman of modest extraction was introduced to her. His name was Chauveau. She was greatly taken by the good looking young man, married him, bought him the Chateau de Keriolet, in Brittany, and obtained for him the title of Comte, and for herself that of Marquise de Serre. The Comte de Chauveau died soon after their marriage, bequeathing the Chateau de Keriolet to his mistress. The Comtesse, furiously angry, bought the chateau from her rival at an exorbitant price and gave it to the state on condition that it should be turned into a museum.
We used to visit my great-grandmother in Paris every year. She lived alone with a companion in her house in the Parc des Princes. We used to stay in a pavilion connected to her house by a subterranean passage, and never called on her except in the evening. I can see her now, enthroned majestically in a huge armchair, the back of which was decorated with three coronets, the emblems of her triple rank of princess, marchioness and countess. In spite of her extreme old age, she was still beautiful and had retained an imposing appearance and aristocratic bearing. Always very carefully made up and perfumed, she wore a red wig and an impressive number of pearl necklaces.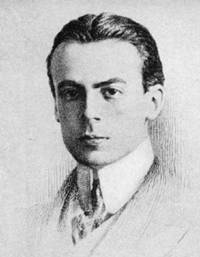 Left: Felix's brother Nicholas.
She was strangely mean about some little things. For instance, she invariably offered us moldy chocolates, which she kept in a box made of rock crystal studded with precious stories. I was the only one who would eat them, and I really believe this was the reason why I was her favorite. On seeing me accept what everyone else refused, Granny would caress me affectionately, saying: "I like this child."
She was a hundred years old when she died in Paris, in 1897. She left my mother all her jewels, my brother the house in Parc des Princes, and to me her houses in St. Petersburg and Moscow.
In 1925, when I was a refugee in Paris, I read in a Russian newspaper that the Bolsheviks, while searching our house at St. Petersburg, had discovered a secret door in my greatgrandmother's bedroom; this door led to a room in which was a coffin containing the skeleton of a man. I pondered over this mysterious discovery for a long time. Could the skeleton have been that of the young revolutionary she had loved? Had she hidden him in her home? after helping him to escape? I recollected that years before, while going through my great-grandmother's papers in this very room, I had felt strangely ill at ease and even asked my manservant to stay with me so that I should not be alone.
The house in the Pare des Princes remained vacant for a long time; it was rented and finally sold to the Grand Duke Paul Alexandrovich. After the Grand Duke's death, it became a girls' school, the Cours Dupanloup, which my daughter attended long afterward.
My mother's father, Prince Nicholas Yussupov, son of Comtesse de Chauveau by her first husband, was a man of great ability, considerable attainments and a most peculiar character.
On graduating from the University of St. Petersburg, where he had, been an exceptionally brilliant student, he entered the service of the state and devoted the rest of his life to working for the welfare of Russia.
In 1854, during the Crimean War, he armed and equipped two infantry battalions.
During, the Russo-Turkish War, my grandfather presented the army with a hospital train. He was deeply interested in public welfare. He founded and organized a number of charitable institutions, and took a particular interest in the Institute for Deafmutes. His character was full of contradictions. He would spend most generously for charities, yet showed an incredible stinginess in all the minor details of daily life. When traveling, for instance, he always stayed at third-rate hotels and asked for the cheapest rooms. On leaving, he went down the back stairs in order to avoid tipping the staff who waited for him in vain, Being both hard to please and very touchy, he was dreaded by one and all. It was misery for my mother to travel with him. In St. Petersburg, to reduce the expense of his receptions, he closed some of the drawing rooms to save the cost of lighting them, thus obliging his guests to huddle together in overcrowded rooms. The Dowager Empress, who remembered my grandfather's eccentricities, told us that when he gave a supper party the tables were set with gold and silver dishes, but that artificial fruits were placed among the real ones in the bowls. In spite of these petty economics, the general effect of his receptions was one of matchless splendor. It was at one of these, in 1875, that the historic interview between the Emperor Alexander II and the French general Le Flo took place.
After the France-Prussian War, Bismarck again became very aggressive, and did not conceal his determination to "finish with France, once and for all." Much alarmed, the French government sent General Le Flo to St. Petersburg to ask for the Tsar's intervention to avoid a conflict. My grandfather was asked to give a party at which the French envoy could meet the Tsar.
That evening a French play was given in our private theater. It was arranged that after the performance the Tsar would stand in the recess of a window in the foyer, and that General Le Flo would join him. When my grandfather saw them together, be said to my mother: "You are present on a historic occasion. The fate of France hangs upon this interview."
Alexander II promised to intervene, and warned Bismarck that Russia was ready to mobilize if Germany persisted in her militant attitude.
My grandfather loved the arts passionately, and helped artists all his life. He was a great lover of music, and an accomplished violinist whose fine collection of violins included an Amati and a Stradivarius. My mother took it for granted that I had inherited my grandfather's talent, and she insisted on my taking violin lessons with a professor of the Academy of Music. To encourage me, even the Stradivarius was brought out. But all was in vain, and my career as a violinist soon came to an end.
The collections begun in the eighteenth century by Prince Nicholas were added to and enriched by his grandson, who also had a love for objets d'art. The glass cases in his study contained a large collection of snuff boxes, rock crystal cups filled with precious stones and other bric-a-brac. He had inherited a passion for jewels from his grandmother, Princess Tatiana. He always carried a doeskin purse full of unset gems which he loved to handle and display to his friends. I well remember that in my childhood I used to play with one of his pearls and roll it on a table; it was a specimen of such perfect shape and luster that my family thought it too beautiful to be pierced!
My grandfather was the author of several books including an important work on our family history. He had married the Countess Tatiana Alexandrovna de Ribeaupierre; I never knew her, as she died before my mother was married. She was so delicate that my grandparents spent a good deal of time abroad, at watering places and in Switzerland where they owned an estate on the Lake of Geneva. As a result of these frequent absences, their Russian estates were sadly neglected, and my parents had to spend a lot of time and money on putting them in order.
My grandfather died at Baden-Baden after a long illness. I remember seeing him there when I was a child. My brother and I often paid him a morning visit at his modest hotel. We used to find him sitting in a highbacked armchair, his legs wrapped in a plaid. Beside him, on a table littered with bottles and medicines, be always kept a flask of Malaga and a box of biscuits. It was with him that I had my first glass of wine.
My Grandmother Ribeaupierre was as good as she was intelligent and witty. She must have been very beautiful, judging by the portrait Winterhalter painted of her. She liked to surround herself with attendants whom we Russians call prijivalki, vague persons whose duties were ill defined and who were to be found in most old family homes where they formed part of the household. Thus, for instance, the sole duty of a certain Anna Artamonovna was to watch over a very beautiful sable muff which my grandmother never wore but used to keep in a cardboard box. When Anna died, my grandmother opened the box: the muff bad disappeared and in its place was a note written by the deceased:
"Forgive me, Lord Jesus Christ! Have mercy on Your servant Anna for her voluntary and involuntary sins!"
My grandmother took great pains over her daughter's education. By the age of seven, my mother was well versed in social usage. She knew how to welcome guests and carry on a conversation. Once when my grandmother was expecting a visit from an ambassador, she asked her daughter, who was still a small child, to entertain him till she came downstairs. My mother laid herself out to please the old gentleman, offered him tea, biscuits, cigarettes... she labored in vain! The ambassador, as he waited in majestic silence for the mistress of the house to appear, paid no attention to the child. Having shot all her arrows, my mother could think of nothing else she could do for her guest until she bad a sudden inspiration and asked: "Perhaps you'd like to go to the bathroom?"
Of my grandparents on my father's side, I knew only my grandmother. My grandfather, Felix Elston, died long before my parents' marriage. He was said to be the son of Frederick William IV, King of Prussia, and Countess Tiesenhausen, maid of honor to the Empress Alexandra, the King's sister. The Empress went to Prussia to visit her brother, taking her maid of honor with her. The King fell violently in love with the maid of honor and wanted to marry her. Some say that the affair ended in a morganatic marriage, others that the young woman refused to marry him as she did not wish to leave the Empress. However, she must have yielded to the King's pressing suit, and their secret love affair resulted in the birth of a son, Felix Elston. Spiteful contemporaries construed this name as the contraction of three French words: elle s'etonne (she is astonished), which supposedly expressed the feelings of the young mother. My grandfather lived in Germany until be was sixteen; he then came to Russia where he entered the Army. He was later given the command of the Don Cossacks. He married Helen Sergeievna, Countess Sumarokov, who was the last of her line. On account of this, the Tsar granted Grandfather Elston the right to take his wife's name and title. The same favor was granted to my father when he married the last of the Yussupovs.
My grandmother Elston was a tiny, dainty old lady, round as a dumpling, with a sweet face and the kindest of hearts. Her whimsical nature often showed itself in the most unexpected ways. For instance, she filled the many pockets of her innumer able petticoats with a jumble of oddments which she labeled "useful presents for my friends." The result was an extraordinary collection of slippers, toothbrushes, medicines, and various toilet accessories, some of them very intimate ones indeed. She used to display them before our guests, and would scrutinize their faces to try to discover which object would suit them best. My parents had to resort to various stratagems to keep her in her room while we were entertaining strangers.
She had two manias: collecting stamps and breeding silkworms.the worms. The worms overran the house; they craweled al over the armchairs, and our guests would squash them when they sat down, and of course ruined their clothes.
When we stayed in the Crimea my grandmother's chief interest lay in the garden, where there was plenty of scope for her originality. She decided that snails were good fertilizer for rose trees. She would scour the estate for them, and on returning home would trample her harvest underfoot until it was reduced to a gluey pulp which she then presented to the gardeners, who immediately threw it away. However, as they wished to please my grandmother, they never failed a few weeks later to bring her the choicest fruit and flowers, obtained, so they said, thanks to the snail-fertilizer.
Her charity was boundless. When she had given away all she had, she continued to help the poor by begging from her friends. She was very fond of my brother and myself, although she was often the victim of our hoaxes. One of our favorite games consisted in taking her up in the lift and stopping it between two floors. When the poor woman, beside herself with fear, shrieked for help, we would stage a rescue which she never failed to reward. We played the same trick on visitors we disliked, but we never rescued them until the servants, hearing their cries, came running to their help.
A few moments before her death, Grandmother, true to her strange passion, asked for her silkworms and after gazing at them for the last time passed peacefully away.
The motto of the Sumarokovs is: "Straight ahead." All his life my father was faithful to it, and in consequence was morally far superior to most of his associates. Physically be was tall, goodlooking and slim with dark eyes and black hair. Although he grew heavier with age, he never lost his fine bearing. He had more common sense than real intelligence, and his inferiors and subordinates loved him for his kindness. But be showed little tact in dealing with his superiors, and his frankness sometimes got him into trouble.
He had a love for soldiering which dated from his earliest youth. He entered the regiment of Chevaliers-Gardes which he later commanded until he was appointed aide-de-camp general to the Emperor. Toward the end of 1914, the Tsar entrusted him with a mission abroad and on his return made him Governor General of Moscow.
My father was ill equipped to administer the immense fortune which my mother brought him on their marriage, and he made many bad investments. As be grew older, be showed signs of eccentricity which recalled those of his mother. His nature was so different from my mother's that he never really understood her. He was above all a soldier, and had no taste for the intellectual circles which would have suited his wife so well. Out of love for him, she sacrificed her personal inclinations and gave up much which might have helped to make life pleasant for her. Our relations with our father were always very distant. They merely consisted in kissing his hand morning and evening. He knew nothing of our life, and neither my brother nor I ever really talked frankly with him. My mother was lovely. She was slim and had wonderful poise; she bad very black hair, a soft olive complexion and deep blue eyes as bright as stars; she was clever, cultured and artistic, and above all she had an exquisitely kind heart. No one could resist her charm, and far from being vain and proud of her exceptional gifts she was modesty and simplicity itself. "The more you have," she used to tell us, "the more you owe to others. Be modest, and if you do happen to have any advantages don't let those who are less favored know it."
She had had numerous suitors from every country in Europe. But she refused all offers, even those of royalty, as she was determincd to choose her own husband. My grandfather, who in his mind's eye saw his daughter on a throne, lamented her lack of ambition. He was bitterly disappointed when be found that she had decided to marry Count Felix Sumarokov Elston, a mere officer in the Guards.
My mother had a natural gift for dancing and acting which would have enabled her to vie with the best professionals. At a great fancy-dress court ball where all the guests had to appear as sixteenth-century boyars, the Tsar asked her to perform the Russian national dance. Although she had not rehearsed with the orchestra, she improvised so skillfully that the musicians followed her movements with case. She took five curtain calls. Stanislavsky, the famous manager of the Moscow theater, after seeing her act in a charity performance of Les Romanesques, play by Edmond Rostand, begged her to enter his company, insisting that her right place was on the stage.
Wherever my mother appeared she brought a delightful feeling of light and well-being. Her eyes shone with kindliness and sweetness. She dressed with quiet elegance, was not fond of jewelry, and although she owned the most beautiful gems wore them only on great occasions.
The Infanta Eulalia, aunt of King Alfonso XIII of Spain, once came to Russia on a visit and my parents gave a reception for her in our house at Moscow. In her memoirs, the Infanta gives a description of my mother:
Of all the parties given in my honor, none impressed me more than that of Princess Yussupov. The princess was a most lovely woman, whose marvelous beauty stands out as typical of a period. She lived in extraordinary luxury, in a setting of unsurpassed splendor, surrounded by works of art of the purest Byzantine style, in a great palace the windows of which gave onto the city of a thousand cupolas. The magnificence and luxury of Russia, blended with the refinement and distinction of France, reached its culminating point in the Yussupov palace. At the reception in question, the Princess wore a court gown studded with the finest diamonds and pearls. Tall, exquisitely beautiful, she wore a kokoshnik set with enormous pearls and equally large diamonds, worth a fortune. A dazzling array of fantastic jewels from the East and the West completed her costume: ropes of pearls, massive gold bracelets of ancient design, pendants of turquoises and pearls, multicolored, glittering rings... All these gave to Princess Yussupov the majestic splendor of a Byzantine Empress. [The kokoshnik is our court tiara.]
On another official occasion, things turned out quite differently. My parents accompanied the Grand Duke Serge and the Grand Duchess Elisabeth to England to attend Queen Victoria's jubilee celebrations. The wearing of jewels was obligatory at the Court of St. James, and the Grand Duke bad asked my mother to bring her finest sets. A large red leather bag containing jewels was entrusted to a manservant. On the evening of her arrival at Windsor Castle, when my mother was dressing for dinner, she asked her maid for the jewels, but the bag could not be found. So Princess Yussupov appeared in a sumptuous gown without a single jewel. The bag was found next day in the rooms of a German princess whose luggage had also gone astray.
When I was a small child, my greatest pleasure was to see my mother in evening dress. I remember particularly a dress of apricot velvet trimmed with sable which she wore at a dinner given in our house on the Moika in honor of Li-Hung-Chang, a Chinese statesman who was making a short stay in St. Petersburg. To complete her toilette, she wore a set of diamonds and black pearls. At this dinner, my mother became acquainted with one of the stranger forms of Chinese politeness. At the end of the meal, two of Li-Hung-Chang's Chinese attendants brought in a silver basin, two peacock feathers and a napkin. The Mandarin took one of the feathers, tickled his throat with it ... and vomited his entire dinner into the basin. My mother was horrified, and turned an inquiring glance upon the diplomat seated on her left, who had lived in the East for many years. "Princess," said be, "you should consider yourself highly flattered, for such behavior on the part of Li-Hung-Chang is a tribute to your delicious food; it is meant to convey his Excellency's readiness to start his dinner all over again." My mother was a great favorite with the Imperial family, particularly with the Grand Duchess Elisabeth, the Tsarina's sister. She was deeply devoted to the Tsar, but her friendship with the Tsarina did not last. My mother was too independent to conceal her opinions, even at the risk of causing displeasure. Under the influence of certain members of her immediate circle the Tsarina ceased to see her. In 1917 the court dentist, Dr. Kastritzky, on his return from Tobolsk where the Imperial family was imprisoned, brought us a last message from the Tsar:
"When you see Princess Yussupov, tell her that I now see how right she was. If I had listened to her, many tragic events might have been averted."
Ministers of state and politicians appreciated my mother's clearsightedness and the sureness of her judgment. She might have played the part of a descendant of her great-grandfather, Prince Nicholas, and become the center of a political salon, but her retiring nature prevented her from doing this. Her dignified reserve increased the regard that everyone had for her.
My mother cared nothing for money, and allowed my father to use hers as he pleased, confining her personal activities to works of charity and to the well-being of our peasants. If she had married a different type of man, she would probably have played an important role not only in Russia but in Europe.
There was a gap of five years between my brother Nicholas and myself; this at first hampered our intimacy, but by the time I was sixteen we had become fast friends. Nicholas went to school and then to the University of St. Petersburg. He liked military life no better than I did, and refused to become a soldier. However, his character differed from mine and resembled my father's. From my mother he inherited a gift of music, literature and the arts. At twenty-two he directed a company of amateur comedians who gave private performances. This greatly shocked my father, who always refused to allow him to act in our own theater. Nicholas attempted to enroll me in his company, but the first part I was given was that of a gnome, and this so wounded my vanity that I took an immediate dislike to the stage.
My brother was a tall, slender boy with black hair, expressive brown eyes, thick eyebrows and a wide sensuous mouth. He had a very fine baritone voice and accompanied himself on the guitar.
As be grew up, be became overbearing and arrogant. He had little regard for other people's opinions, and did exactly what be pleased. He loathed the kind of people who came to our house, and in that I agreed with him entirely. To relieve the boredom we felt in the company of these self-sufficient hypocrites, we learned to communicate with each other silently by imperceptible lip movements. We became so expert that we could make fun of the guests under their very noses, but this trick was finally discovered and earned us the enmity of a great many people.
A big thanks to Rob Moshein for scanning and correcting this text.

For questions or comments about this online book contact Bob Atchison.
click here to view the Nicholas and Alexandra Collection