I return to Russia - The centenary of Borodino - My engagement.
I was sad at leaving England where I had made so many friends. I felt that one chapter of my life was over forever.
I spent a few days in Paris seeing my French friends, and then left for Russia with Basil Soldatenkoff who had offered to drive me in his racing car "Lina." Basil always drove at full speed, and when I begged him to go a little slower he merely laughed and stepped on the accelerator.
On reaching Tsarskoe Selo, to my great delight I found my mother in much better health. We had long talks, mostly about my future. The Tsarina asked me to come to see her and questioned me at great length about my life in England. She too wished to discuss my future, and insisted that I should get married.
It was a great joy to meet all my friends again, especially the Grand Duke Dmitri; to be back in my own country, in my home, to be once again in St. Petersburg with its beauty and its gaiety. We resumed our merry parties in the company of artists and musicians and, of course, of the gypsies, with whom we sometimes stayed till dawn. How happy I felt in Russia! And, above all, how much I felt at home!
I went several times to see the Grand Duchess Elisabeth in Moscow. The question of my marriage came up in all our conversations, but no specific name was ever mentioned and it was difficult for me to object on principle. However, there was no question; everybody had decided it was time I got married.
I was dining with the Grand Duchess Vladimir one evening at Tsarskoe Selo when someone mentioned the festivities in connection with the centenary of the battle of Borodino. Everyone criticized the Tsarina for having forbidden the Grand Duchesses to be present at this ceremony. I urged the Grand Duchess Helen and the Grand Duchess Victoria, the daughter and daughter-inlaw of my hostess, to disregard this arbitrary veto and go to Borodino incognito.. I offered to take them there myself and invited them to spend a few days at Arkhangelskoe on the way.
My proposal was greeted with enthusiasm. The Grand Duchess Marie approved but refused to join us. When I told my mother she also gave her approval, but warned me that we would probably get into trouble.
I left for Moscow the very next day with Basil Soldatenkoff and my valet Ivan, so as to arrange a fitting reception for my guests. I asked Nastia Poliakowa, the famous gypsy singer, to come to Arkhangelskoe with her chorus, and also sent for Stefanesco, the cymbal player, who happened to be in Moscow at the time.
Basil and I went to meet my guests at the station. The Grand Duchesses were accompanied by several members of their suite; we were ten in all, full of gaiety and high spirits.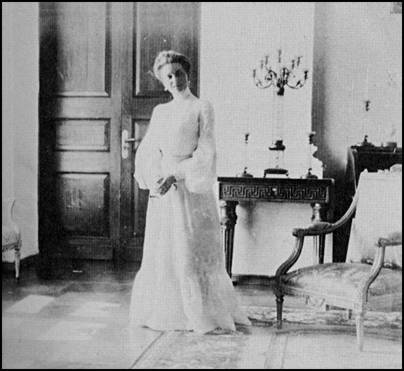 Above: Princess Zenaida att Arkhangelskoe.
Arkhangelskoewas looking glorious and the roses in the garden filled the house with their delicious perfume. The charm and beauty of the Grand Duchess Helen made Arkhangelskoe seem still more wonderful than usual. We spent our days out of doors, and our nights listening to Stefanesco and the gypsies. Time sped by so pleasantly that we almost forgot the Borodino celebrations, and we were so sorry to leave that we put off our departure till the last moment.
On our way we were to spend the night in a village with a tradesman who had placed two rooms in his house at our disposal. The larger room was given to the ladies, and the men had to make the best of the other and bed down on the floor on mattresses. As I did not feel sleepy, I went for a walk in the warm, starlit night. When I returned, I found the house in darkness and my companions busy tableturning. The Grand Duchess Helen told me that a spirit had materialized who claimed to have commanded, in 1812, the regiment of which she herself was the honorary colonel. Mortally wounded during the battle in a village some four miles from Borodino, he had been carried to a house with a red roof, the fourth on the right on entering the village; this he described in detail. He asked the Grand Duchess to pray for the peace of his soul beside the bed in which he had died.
We passed through this very village the next day on our way to Borodino. There was the red-roofed house exactly as he had described it. The Grand Duchess asked the kindly old peasant woman who opened the door to allow her to rest for a while. We could see into a room in the corner of which stood a bed. While I talked to the old woman, the Grand Duchess went into the room and, kneeling by the bed, offered up a short prayer. Then, feeling very much impressed, we got into the car and drove away under the astonished eyes of the peasant-woman.
The review had just begun when we reached Borodino. Police officials, on recognizing the Grand Duchesses, wished to lead them to the Imperial box; to their astonishment, the Grand Duchesses asked for seats in the public stand. This, as we discovered to our dismay, was next to the Imperial box. The Tsarina saw us and cast very cold glances in our direction.
It was a magnificent review, and ended with the blessing of the troops.. We were all very much moved when the miraculous icon of the Blessed Virgin of Smolensk was held aloft for the Benediction
That same evening we returned to Arkhangelskoe, where 5tefanesco and the gypsies were waiting for us; but soon my charming guests left, and our delightful little holiday was over. Shortly afterward, I myself left for the Crimea. I found a letter there from King Emanuel of Portugal, announcing his arrival. I was delighted to see him again and to renew the friendship we had formed in England. I appreciated his keen mind, his delicate wit and his natural kindliness; he was very fond of music and often asked me to sing gypsy songs which reminded him of the songs of his own country. King Emanuel had a mania for letterwriting, and he once showed me part of his correspondence with the Kaiser and with King Alfonso XIII of Spain. He tried to add me to the list of his victims, but our exchange of letters was brief. I have always hated writing letters. Besides which, I felt quite incapable of sending suitable replies to his, which were as admirable in style as they were edifying in thought. I finally bought a Manual for the Perfect Correspondent from which I copied, haphazard, regardless of the context. When he received, signed by me, a letter from a little girl lost in a big city describing her adventures and her emotions, the King must have understood, for he ceased writing to me.
During the summer of 1912 the Tsar went to Port-Baltic to meet the Emperor of Germany. This was no pleasure trip, as neither the Tsar nor the Tsarina liked the Kaiser. "He thinks be is a superman," the Tsarina once said in my hearing, "and he's really nothing but a clown. He has no real worth. His only virtues are his strict morals and his conjugal fidelity. His reported love affairs are a myth."
When giving me an account of the Port-Baltic meeting, Dmitri said that it had been completely lacking in cordiality. The absence of sincerity on both sides had created an atmosphere of constraint which was felt by all.
The marriage of the Grand Duke Michael Alexandrovich and Madame Woulfert, which took place in the autumn, distressed the whole Imperial family and particularly the Dowager Empress. The Grand Duke Michael was the Tsar's only brother and, after the Tsarevich, heir to the throne. After his marriage he was obliged to leave Russia and live abroad with his wife who was given the title of Countess Brassoff. Their only son was killed in an automobile accident, soon after the Revolution. Morganatic marriages such as this did great harm to the prestige of the Imperial family. The private lives of those who may be called upon to reign should be governed by the interests of their country and by the duties incumbent upon their rank. Noblesse oblige.
I spent the winter of 1913 in St. Petersburg with my parents. This was to be a red-letter year for me.
The Grand Duke Alexander Mikhailovich called on my mother one day to discuss the possibility of a marriage between his daughter Irina and myself, thereby bringing about the realization of my ardent wishes. I had never forgotten the young girl, practically a child, whom I had met one day while out riding in the Crimea. The child had grown into a girl of dazzling beauty. She was very shy and reserved, which added a certain mystery to her charm. The deep feeling for her which was born in my heart made me realize the unworthiness and the triviality of my conduct in the past. There existed between Irina and myself the perfect harmony which is the basis of all true happiness..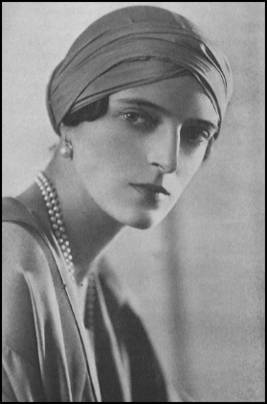 Left: Irina in the 1920's.
Little by little, Irina became less timid. At first her eyes were more eloquent than her conversation but, as she became more expansive, I learned to admire the keenness of her intelligence and her sound judgment. I concealed nothing in my past life from her, and, far from being perturbed by what I told her, she showed great tolerance and comprehension. She fully understood the qualities in women which "put me off" and made me prefer the company of men. She disliked as much as I did the pettiness of some women, and their general lack of frankness. Irma was an only daughter, with six brothers, and had none of these feminine failings.
My future brothers-in-law adored their sister, and were inclined to look askance at the man who was about to take her from them. Prince Theodore in particular was very hostile to me. This fifteen-year-old boy was tall for his age; his wild and curly chestnut hair framed a handsome, typically nordic face with very mobile features. His expression could be as ferocious as a wild beast's, or as gentle as a child's. He bad a keen sense of humor and an unexpected turn of mind. The hostility which he had shown me at first soon changed into a deep and lasting friendship. When I married his sister, he made his home with us; in fact he could not live without us, and only left us in 1924 when he married Princess Irene Paley, daughter of the Grand Duke Paul Alexandrovich.
Before my engagement to Irina bad been officially announced, Dmitri came to see me to ask whether there was any truth in the rumor that I was to marry his cousin. I replied that there was some question of it but that nothing, so far, had been settled. "Because," he went on, "I too intend to marry her." I thought at first that he was joking, but not at all; he assured me that he had never been more serious in his life. Princess Irina would have to choose between us. We made a mutual promise not to say or do anything that might influence her. But, when I repeated this conversation to Irina, she said that she had made up her mind to marry me and that nothing and no one would induce her to change her mind.
Dmitri bowed before a decision which be realized was final, but our friendship was to suffer and our relations were never the same afterward.
A big thanks to Rob Moshein for scanning and correcting this text.
For questions or comments about this online book contact Bob Atchison.