Our engagement is made public - A threatened break - The Dowager Empress - Preparing our apartments on the Moika - Our marriage.
Shortly after our arrival in the Crimea, our engagement was at last made public. Some of the letters and telegrams that poured in gave me a good deal to think about. I had never dreamed that any of my friends could be so much affected by my marriage.
Soon afterward, Irina again went abroad with her parents: first to Paris to order her trousseau, and then to Denmark to visit her grandmother. I was to join them in Paris and accompany Irina and her mother to Copenhagen to be presented to the Dowager Empress.
When I arrived at the Gare du Nord, I found Count Mordvinov waiting for me on the platform, and was amazed to hear that he had been sent by the Grand Duke Alexander to tell me that our engagement had been broken off: I was not even to attempt to see Irina or her parents again. I questioned the Grand Duke's emissary in vain; he could tell me nothing more.
I was shocked beyond words by this message, but I was not going to allow anyone to treat me so offhandedly. No one had the right to condemn me unheard. I was determined to plead my cause and defend my happiness, so I went to the hotel where the Grand Duke and Grand Duchess were staying and walked straight to their rooms unannounced. Our conversation must have been as disagreeable for them as it was for me. But by the end of it I had persuaded them to reverse their decision and give their definite consent to our marriage. Feeling relieved, but bewildered, I then went to see Irina who again assured me that she was more than ever determined to marry me. Later on I was grieved to find that the people who had tried so hard to damage me in the eyes of her parents were the very ones I had thought to be my real friends. I knew that my coming marriage had upset some of them, but I now saw to what lengths they were prepared to go to prevent it. Still, that degree of affection, wherever it came from and however mistakenly it was expressed, touched me deeply.
I know that in writing all this I may appear to be absurdly, or even odiously, conceited. But I must be objective if I want my narrative to be a truthful one. It remains a fact that the power I have always had of attracting people, though quite out of proportion to my own merits, has had far-reaching consequences for myself and for others, I admit that for a time this both flattered and amused me; but it soon palled, because it was too easy, and there was too much of it. When I felt myself being carried forward on a wave of destiny, I did not bother much about the friends I left behind. But I now realized that I could not cast them off so easily; I could not feel indifferent to pain that I had been responsible for causing, even unconsciously. I felt a certain moral responsibility. I would have liked to do something for them, were it only to substitute for the love I could not give them the more precious gift of friendship.
It now remained for me to overcome the Dowager Empress' opposition, for she too had been influenced against me.
Irina and her mother had already left for Denmark, and a few days later I received a telegram inviting me to Copenhagen.
I had never had any contact with the Dowager Empress since my early childhood. It was only in 1913 that I had the honor of being presented to this great lady who, in spite of her voluntary retirement and the modesty of her bearing, was certainly one of the most striking personalities of our time.
Princess Marie was the daughter of King Christian IX and Queen Louise of Denmark. Her features were less regular than those of her sister, Queen Alexandra of England, but she had extraordinary charm, which her children and grandchildren have inherited from her. Although she was of small stature, her bearing was so majestic that when she entered a room one noticed no one else. When she married Tsar Alexander III, Russia immediately took her to its heart. She was a model wife and a loving mother, yet she was able to devote much time and energy to charitable works. Her intelligence and political flair enabled her to play an important part in domestic and foreign affairs. A bitter enemy of Germany, she exerted all her influence in favor of the Franco-Russian alliance. Russian public opinion was divided on this subject; many people thought that only a triple alliance, Franco-Russo-German, could safeguard peace.
Alexander III died at Livadia on October 20,1894, aged forty-nine. Six years before, when his train was derailed by the nihilists, be had saved his family by propping up the shattered roof of the dining car with his shoulders. The effect of this effort and the strain of continually fighting a threatened revolution exhausted him prematurely. After his death the Empress Marie continued to live at the Anichkov Palace, St. Petersburg. She spent her summers at Gatchina, and frequently went to stay with her family in Denmark.
At the beginning of his reign, Emperor Nicholas II was under the good influence of his mother, but owing to the ill feeling which existed between the two Empresses this unfortunately did not last. The young Empress' morbid mysticism did not fit in well with Empress Marie's frank, well-balanced nature. In 1915 the latter, after giving repeated but vain warnings of the approaching catastrophe, left the capital and settled down in Kiev. From there she helplessly watched the collapse of the Empire.
Having been told of the disagreeable rumors that were being circulated about me, the Dowager Empress expressed the wish to see me. Irina was her favorite grandchild, and all her thoughts were for her happiness. I knew that our fate was in her hands.
As soon as I reached Copenhagen, I telephoned to the Amalienborg Palace to inquire when Her Majesty would receive me. I was told that I was expected for lunch. I was shown into the drawing room, where I found the Grand Duchess Ksenia and her daughter. The joy that Irina and I felt on meeting again must have shown in our faces.
Several times during lunch, I felt the Empress' observant eyes on me. She afterward expressed the wish to see me alone. During the conversation that followed, I had the impression that, little by little, I was winning her over to my side. At the end, she rose and said kindly: "Do not worry, I will do what I can for your happiness."
It was decided that our marriage should take place on February 22, 1914, in the chapel of the Anichkov Palace, the residence of the Dowager Empress.
Irina and I were to live in the Moika house and my parents gave us the ground floor of the left wing. This, by the way, was really an entresol, as it was considerably above the ground level. I had a private entrance made, and a lot of other necessary alterations carried out.
The entrance hall was reached by a short flight of white marble steps lined with statues. To the right were the reception rooms which looked out onto the Moika Canal. First came a ballroom with yellow marble columns, ending in great arcades opening onto the winter garden. Next was the large drawing room, hung in ivory silk and decorated with paintings of the eighteenth century French School. The French Restoration furniture of gold and white wood was covered with the same ivory silk, embroidered with bouquets of flowers. The furniture in my private sitting room was of mahogany, covered in bright green with an embroidered center design. The walls were of sapphire blue on which hung Gobelin tapestries and Dutch paintings. The color scheme of the dining room was amethyst; large glassfronted cabinets which could be lighted up at night contained a collection of Arkhangelskoe porcelain. The library was paneled with Karelian birch and had emerald-green hangings. All the ceilings were painted in gray monochrome, and decorated with perfect stucco work. Aubusson carpets, objets d'art, chandeliers and girandoles of rock crystal completed the decoration. The general scheme ranged in style from Louis XVI to Empire, which had always been my favorite period.
Facing onto the formal courtyard were our small chapel and our private apartments: our bedroom and Irina's boudoir facing south, a mosaic swimming pool, and a small steel-lined strong room with glass cases for Irina's jewels.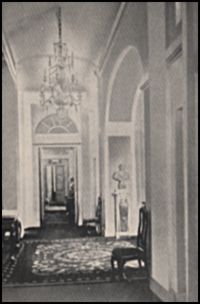 Right: Passage in the Moika Palace.
To the left of the entrance hall, I had a pied-a-terre arranged for my own use, in case I ever came to St. Petersburg alone. The drawing room was divided into two unequal parts by pillars and a curtain; the smaller part was slightly raised, and was to be my bedroom. The furniture was of mahogany, and the Holland linen hangings enhanced the beauty of the old paintings on the walls. Next door was a small octagonal dining room lit by a high window. The doors of this room were so skillfully concealed that when they were closed there seemed to be no exit. One of these doors led to a secret staircase which went down to the basement, which I intended to turn into a Renaissance drawing room. Halfway down the staircase, a concealed door opened onto the courtyard. It was through this door that Rasputin attempted to escape, two years later.
The work was barely finished when the Revolution broke out.
We were never able to enjoy the home which we had taken so much trouble to arrange.
The Grand Duchess Elisabeth was not present at our marriage. She considered that a nun would be out of place at such a worldly ceremony. However, I went to see her in Moscow a few days before; she welcomed me with her usual graciousness, and when I left she gave me her blessing.
The Tsar inquired through my future father-in-law what I would like for a wedding present. He thought of offering me an office at court, but I replied that His Majesty would gratify my wishes to the full by granting me the privilege of using the Imperial box at the theater. On receiving my reply, Nicholas II laughingly agreed.
We were overwhelmed with gifts: the most gorgeous jewels as well as the simplest and most touching presents from our peasants.
Irina's wedding dress was magnificent; it was of white satin embroidered in silver, with a long train. Her face veil, which had belonged to Marie Antoinette, was held by a tiara of rock crystal and diamonds.
The question of what I should wear gave rise to lively discussions. I firmly refused to appear in a tail coat in the daytime, but all the suggestions made raised a storm of protest. Finally the uniform of the nobility-a black frock coat with collar and lapels embroidered in gold, and white broadcloth trousers-was decided on.
All members of the dynasty who married someone not of royal blood were obliged to sign a document renouncing their rights to the throne. Although Irina was very distant in the line of succession, she had to comply with this regulation before marrying me; but it did not seem to worry her very much.
On the wedding day, a coach drawn by four white horses brought my fiancee and her parents to the Anichkov Palace. My own entrance was much less impressive. The fusty old lift stopped halfway up to the chapel, and the whole Imperial family, including the Tsar, had to help to liberate the wretched bridegroom. Then, accompanied by my parents, I walked through several rooms already filled with people to the chapel where I awaited the arrival of Irina.
The bride entered on the Tsar's arm; he led her to her place next to mine and the service began.
It is customary at Russian marriages for one of the priests to spread a carpet of pink silk before the bridal couple across which, in the course of the ceremony, they have to walk. Tradition has it that whoever first sets foot on this carpet will rule the household; Irina had made up her mind to do this, but she caught her foot in her train and I took advantage of this to forestall her.
When the service was over we walked in procession to one of the reception rooms to receive the customary congratulations. For two hours the guests filed past us; Irina was worn out. We then went to the Moika, preceded by our parents, who waited for us at the foot of the staircase to offer us the traditional bread and salt. We were then congratulated by all our servants. After this the same ceremony took place all over again at the Grand Duke Alexander's palace.
The time for our departure arrived at last; a crowd of relatives and friends were waiting at the station. Once more we had to shake hands and be congratulated. After the last demonstrations of affection were over, we entered our coach; a black nose suddenly emerged from a profusion of flowers; and there was my Punch triumphantly ensconced among the roses.
As the train moved out, I saw Dmitri standing on the platform, by himself - a lonely figure.
A big thanks to Rob Moshein for scanning and correcting this text.

For questions or comments about this online book contact Bob Atchison.