Alexander Palace Time Machine - Book Finder
Les Dernieres Annees de la Cour De Tzarskoie-Selo (Last Years of the Court at Tsarskoe Selo)
by Alexandre Spiridovitch
Vol 1: 448; Vol 2: 485pages
Published: 1928
Genre: Memoir
Publisher: Payot
Languages: FRENCH
ISBN Hardcover: No hardcover edition available
ISBN Softcover: None (predates ISBN system)
Print Status: out of print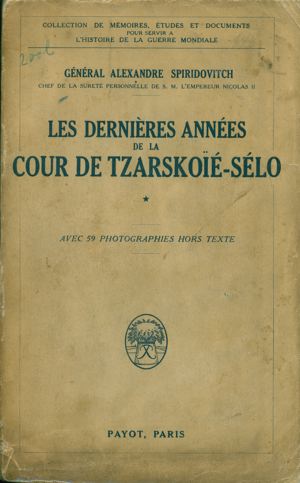 description:
A two volume memoir by Nicholas II's personal chief of security.
Volume 1: 1906-1910 (illustrated with 59 photographs)
Volume 2: 1910-1914 (illustrated with 75 photographs)
unique features:
Details and photographs of the imperial family's private life not found in other memoirs. Also offers a perspective on the logistics of the imperial family's security.
in my opinion:
A rare set of volumes, prized equally by scholars and collectors for its accuracy and perspective -- with good reason.
please let us know if you have discovered other sources for this book
this book profile was written by Sarah Miller