Alexander Palace Time Machine - Book Finder
Ubiistvo Tsarskoi Sem'i (Murder of the Imperial Family)
by M.K. Diterikhs
506pages
Published: 2008
Genre: Non-fiction
Publisher: Veche
Languages: RUSSIAN
ISBN Hardcover: 978-5-9533-3089-3
ISBN Softcover: No softcover edition available
Print Status: in print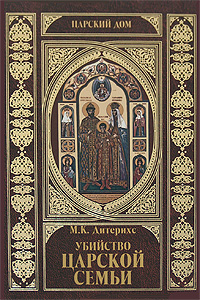 description:
An examination of the murder of the imperial family by the general in charge of the White army's Ekaterinburg investigation. (Originally printed in two volumes in 1922.)
(Title in Russian:
Убийство Царской Семьи)
unique features:
Written with the benefit of full access to both the Sokolov dossier and all other evidence (depositions, testimony, etc.) gathered during the White army inquiry.
For example: contains lists of possessions found at the Ipatiev House, as well as rostero f the men charged with guarding the imperial family both in Tobolsk and Ekaterinburg.
in my opinion:
Though marred by anti-Semitism, Diterikhs's book was one of the more thorough and insightful treatments of the imperial murder and captivity at the time of its publication.
where to find this book:
please let us know if you have discovered other sources for this book
this book profile was written by Sarah Miler