Alexander Palace Time Machine - Book Finder
Last Tsar
by Larisa Yermilova
255pages
Published: 1996
Genre: Photo album
Publisher: Parkstone Press
Languages: English (translated from the Russian)
ISBN Hardcover: 1859952089
ISBN Softcover: No softcover edition available
Print Status: out of print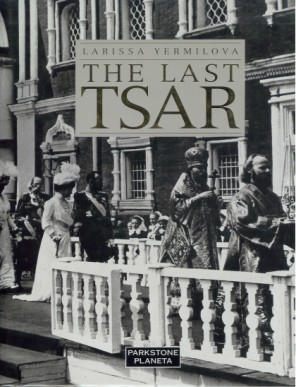 description:
Photo album covering the reigns of Alexander II, Alexander III, and Nicolas II. Emphasis on Nicholas II. Includes formal and informal photos. (Email for alternate cover photo.)
unique features:
Photos of royal family gatherings in Denmark during the 1860's and 1880's; holidays in Finland, the Crimea, and Poland in the 1880's; holidays in Darmstadt, 1890's, 1900's, 1910's; bicentennial of the founding of St Petersburg, 1903; unveiling of monument to Aleksander II in Kiev, 1911; imperial visit to Moscow, August 1912; imperial visit to Kostroma, 1913.
similar to:
in my opinion:
Many photos of crowd scenes at official occasions, which give a nice sense of time and place.
where to find this book:
please let us know if you have discovered other sources for this book
this book profile was written by Sarah Miller