Alexander Palace Time Machine - Book Finder
Catherine the Great: An Enlightened Empress
by National Museums Scotland
224pages
Published: 2012
Genre: Catalog
Publisher: NM Enterprises Limited
Languages: English
ISBN Hardcover: no hardcover edition available
ISBN Softcover: 9781905267743
Print Status: in print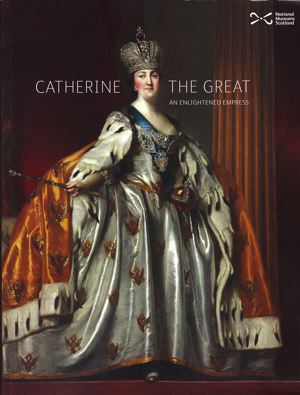 description:
From the exhibition:
Catherine the Great: An Enlightened Empress, the exhibition, is on at the National Museum of Scotland 13 July-21 October 2012, its only venue. It showcases the truly spectactular collections of Catherine the Great, one of Russia's most successful rulers.

Sharp, funny, generous, iron-willed and passionate, Catherine (1729-96) was also one of the greatest art collectors of all time.

The exhibition includes: costumes and uniforms; snuffboxes inlaid with precious gems, gold and silver; ancient Greek and Roman carved cameos depicting figures from biblical stories, mythology and history; and many of the finest examples of porcelain, glass, metal, and polished stone items ever made in Russia.

The book has eight illustrated essays by experts in the fields of Russian history and art, followed by a selected catalogue of the 600+ exhibits.

Essays entitled:
Catherine the Great
"The Glory of Russia is My Glory"
Two Pastimes of Catherine II: Collecting and Building
Painting and Sculpture During the Reign of Catherine the Great
Catherine the Great's Collection of Paintings
"Flourishing Industries" During the Reign of Catherine II
Catherine the Great and European Decorative Art
Scots in the Service of the Great Catherine

Illustrated with 200 black & white and color images.
unique features:
similar to:
Nicholas & Alexandra: The Family Albums
Nicholas & Alexandra: The Last Imperial Family of Tsarist Russia

in my opinion:
where to find this book:
shop.nms.ac.uk
www.woodstockerbooks.com

please let us know if you have discovered other sources for this book
this book profile was written by Sarah Miller