Alexander Palace Time Machine - Book Finder
Anastasia: The Last Grand Duchess, Russia 1914 (Royal Diaries series)
by Carolyn Meyer
227pages
Published: 2000
Genre: Fiction
Publisher: Scholastic
Languages: English
ISBN Hardcover: 978-0439129084
ISBN Softcover: no softcover edition available
Print Status: in print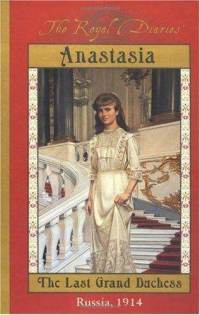 description:
From the publisher:
Thirteen-year-old Anastasia Romanov is the youngest of four daughters of Czar Nicholas II and Czarina Alexandra of Russia. Alexei, the only son, is heir to the Russian throne. The family, one of the wealthiest in the world, enjoys such luxuries as several grand palaces, a private train, a royal yacht, nursemaids, governesses, tutors, and servants. It's a fairytale existence - until everything changes with the outbreak of war between Russia and Germany. Czar Nicholas takes command of the Russian troops. Czarina Alexandra, left to rule in his place, is under the devious influence of Gregory Rasputin, a "holy man." As World War I escalates, the Russian people grow increasingly discontented with the ruling family. The Czar is arrested by the Bolsheviks. And the entire Romanov family is imprisoned, stripped of all luxuries and subjected to harsh living conditions. Finally, the Romanovs are taken to a place as cold and as bleak as their circumstances - Siberia. Here they await their ultimate fate.
(A novel in diary form. Ages 9-12)
unique features:
similar to:
in my opinion:
An engaging introduction to the Romanovs for upper elementary and middle school readers.
where to find this book:
please let us know if you have discovered other sources for this book
this book profile was written by Sarah Miller