Alexander Palace Time Machine - Book Finder
Taina Tsarskikh Ostankov (Mystery of the Tsarist Remains)
by M.E. Chupyakova (editor)
144pages
Published: 1994
Genre: Informational
Publisher: Sredneuralskoye Knizhnoe Izdatelstvo
Languages: RUSSIAN
ISBN Hardcover: No hardcover edition available
ISBN Softcover: 5752906334
Print Status: in print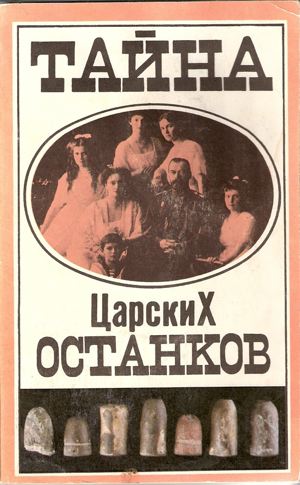 description:
An examination of the nine skeletons exhumed from the Koptyaki Forest in 1991.
Illustrated with two maps as well as 16 pages of black & white and color photographs.
(Title in Russian:
Тайна Царских Останков

)
unique features:
A primarily forensic view of the remains, from a Russian perspective.
in my opinion:
Recommended for dedicated readers fluent in Russian due to the specialized forensic vocabulary.
where to find this book:
please let us know if you have discovered other sources for this book
this book profile was written by Sarah Miller