Alexander Palace Time Machine - Book Finder
Last Empress: The Life and Times of Alexandra Feodorovna, Tsarina of Russia
by Greg King
431pages
Published: 1994
Genre: Biography
Publisher: Carol Publishing Corp.
Languages: English
ISBN Hardcover: 1559722118
ISBN Softcover: 0806517611
Print Status: out of print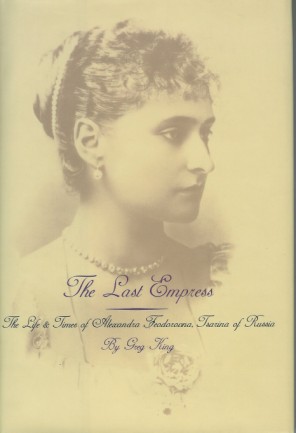 description:
A full biography of Alexandra, from childhood to death.
unique features:
Explores the author's ideas about the influences of Alexandra's childhood, and dispels the idea that Rasputin used the imperial family solely for political gain.
similar to:
in my opinion:
Occasionally relies on the fictional memoirs of Marfa Mouchanow for information, but source notes allow readers to sort fact from fiction. Even so, the best biography on Alexandra to date.
please let us know if you have discovered other sources for this book
this book profile was written by Sarah Miller