Alexander Palace Time Machine - Book Finder
Complete Wartime Correspondence of Emperor Nicholas II and The Empress Alexandra
by Joseph Fuhrmann
784pages
Published: 1999
Genre: Documentary
Publisher: Greenwood Press
Languages: English
ISBN Hardcover: 0313305110
ISBN Softcover: No softcover edition available
Print Status: out of print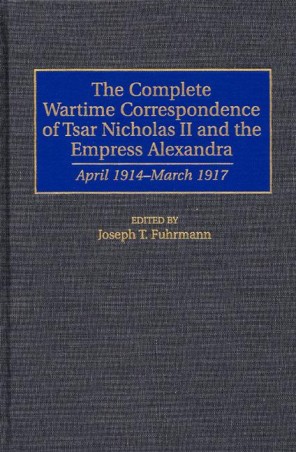 description:
The complete text of all the letters & telegrams exchanged by Nicholas II and Alexandra Fyodorovna from April 1914 to March 1917. Includes notes, biographical index, name and term identifier, and 1914 table of ranks.
unique features:
ALL the letters and telegrams of the imperial couple, complete and UNCUT.
similar to:
Lifelong Passion
Last Diary of Tsarista Alexandra
Fall of the Romanovs
in my opinion:
An invaluable reference, though too tediously detailed for some readers.
please let us know if you have discovered other sources for this book
this book profile was written by Sarah Miller