Alexander Palace Time Machine - Book Finder
Six Years at the Russian Court
by Margaret Eagar
283pages
Published: 1906
Genre: Memoir
Publisher: Hurst and Blackett, Limited
Languages: English
ISBN Hardcover: Predates ISBN system
ISBN Softcover:
Print Status: out of print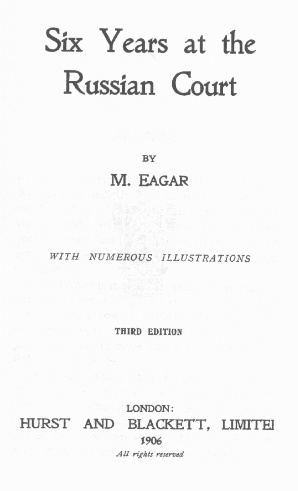 description:
A memoir and travelogue by the nanny in charge of Nicholas II's children from 1898 to 1904.
Includes 24 plates of black and white illustrations.
unique features:
Anecdotes from the infancy and early childhood of Olga, Tatiana, Maria, and Anastasia Nikolaevna.
in my opinion:
Although her attitude toward Russia in general is somewhat condescending, there is no other English source similarly focused on the early childhood of the grand duchesses.
where to find this book:
www.alexanderpalace.org
www.angelfire.com

please let us know if you have discovered other sources for this book
this book profile was written by Sarah Miler