Alexander Palace Time Machine - Book Finder
Hidden Treasures of the Romanovs: Saving the Royal Jewels
by William Clarke
159pages
Published: 2009
Genre: Non-fiction
Publisher: National Museums Scotland
Languages: English
ISBN Hardcover: No hardcover edition available
ISBN Softcover: 9781905267255
Print Status: in print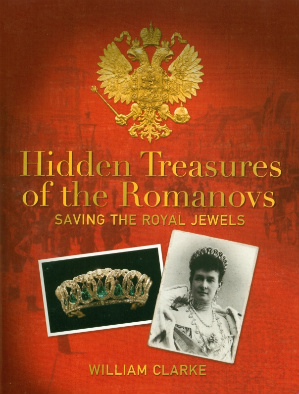 description:
From the publisher:
"This is the untold story of Edwardian man-about-town the Honourable Albert Henry Stopford. A member of the aristocracy, Stopford was accepted in all the best salons of London, Paris, and St Petersburg and counted society hostesses, Russian nobility and members of the Ballet Russes among his closest friends.
"Stopford was a dealer in objects d'art with both Faberge and Cartier, and as a regular guest at Romanov dinner tables and a personal friend of two of the men accused of the murder of Rasputin, he relished his role as the eyes and ears of Whitehall in the Russian capital. Indeed such was the trust bestowed upon him by his peers, it would lead him all the way to the inner sanctum of Tsar Nicholas II.
"Amid the turmoil of the 1917 revolution, Stopford risked his life to rescue Romanov jewels worth millions of pounds form under the nose of Russia's new authorities. Once back in Britain, gems would emerge from his shabby Gladstone bags that were destined to adorn the rich and famous -- queens, duchesses, and film stars -- for years to come."
Illustrated with 70 black and white and color photographs.
unique features:
in my opinion:
please let us know if you have discovered other sources for this book
this book profile was written by Sarah Miller