Alexander Palace Time Machine - Book Finder
S Tsarem i Bez Tsarya (With the Tsar and without the Tsar)
by Vladimir N. Voeikov
272pages
Published: 1994
Genre: Memoir
Publisher: Rodnik
Languages: RUSSIAN
ISBN Hardcover: 5-86231-150-5
ISBN Softcover: No softcover edition available
Print Status: out of print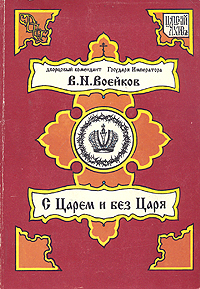 description:
From the publisher:
The Memories of Vladimir Nikolayevich Voyeykov became a bibliographical rarity immediately after publication. As the last palace commandant of Nicholas II, General Imperial Life Guards Voeykov left his descendants unique evidence of the last days of the reign of the sovereign emperor Nikolai II. The book by an eyewitness and participant in the important historical events describes the life of the highest court; the entrance of Russia into the war of 1914; the gradual approach of society to the overthrow of the fabric of the Russian nation-state system; the renunciation of the sovereign emperor Nikolai II from the throne, begun in the State Duma and continued by Bolsheviks revolution
.
Illustrated with 83 photos, including documents of Nicholas II, letters and manifestos.
(Email for alternate cover artwork.)
(Title in Russian:
С Царем и без Царя)
unique features:
Memories of Count Voeikov since end of 1913, during WW1, Russian revolution and period after. Voeikov describes Russian Court, Duma, ministers, Rasputin, Vyrubova, and Tsarevich Alexei's and Tsar's life at Stavka.
similar to:
Vospominaniya o Tsarskoe Sem'e (Recollections of the Tsar's Family)

in my opinion:
Interesting book with details of Russian politics and situation in period during WWI, with many anecdotes of Count's life and Imperial Family.
please let us know if you have discovered other sources for this book
this book profile was written by Nena