Alexander Palace Time Machine - Book Finder
Private World of the Last Tsar: In the Note and Photographs of General Count Alexander Grabbe
by Paul & Beatrice Grabbe
191pages
Published: 1984
Genre: Photo album
Publisher: Little, Brown
Languages: English
ISBN Hardcover: 0316322717
ISBN Softcover: unknown
Print Status: out of print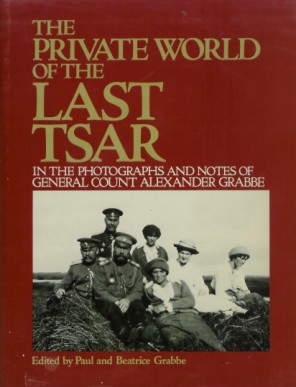 description:
Photographs from the personal collection of Count Alexander Grabbe, with captions compiled from his notes. Exclusive to the family of Nicholas II.
unique features:
Photos of the Imperial Family at their leisure taken on the Standart, in the Crimea, and at Stavka, 1914-1916.
similar to:
Nicholas & Alexandra: The Family Albums
Royal Russia: The Private Albums of the Russian Imperial Family
Romanov Family Album
in my opinion:
Many rare photos from the war years, not found in other albums. Visit http://www.geocities.com/mushkah/PrivateWorld.html for a generous preview, courtesy of Helen Azar.
please let us know if you have discovered other sources for this book
this book profile was written by Sarah Miller