Alexander Palace Time Machine - Book Finder
Royal Russia: The Private Albums of the Russian Imperial Family
by Carol Townend
124pages
Published: 1997
Genre: Photo album
Publisher: St. Martin's Press
Languages: English
ISBN Hardcover: 0312179367
ISBN Softcover: No softcover edition available
Print Status: out of print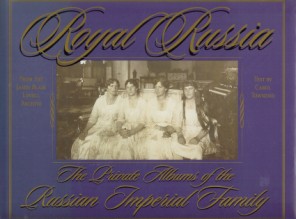 description:
Photos of the Imperial Family selected from the James Blair Lovell Archive. Mostly informal, emphasis on the family of Nicholas II. (Email for alternate cover photo.)
unique features:
Includes photos from the personal albums of Tsarina Alexandra Fyodorovna and Grand Duchess Maria Nikolaevna, arranged to mimic the layout of an imperial album.
similar to:
in my opinion:
Most photos can be found in other books, and a number of the captions misidentify the tsar's daughters. However, a respectable and relatively inexpensive starter collection.
where to find this book:
please let us know if you have discovered other sources for this book
this book profile was written by Sarah Miller