Alexander Palace Time Machine - Book Finder
Court of The Last Tsar: Pomp, Power and Pagentry In the Reign of Nicholas II
by Greg King
559pages
Published: 2006
Genre: Non-fiction
Publisher: John Wiley & Sons
Languages: English
ISBN Hardcover: 0471727636
ISBN Softcover: No softcover edition available
Print Status: in print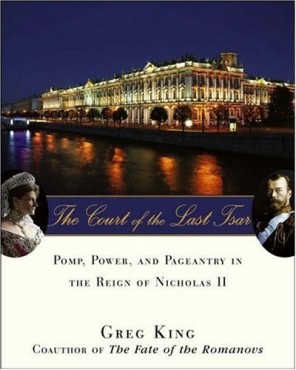 description:
Describes the ceremonies, residences, religion, fashion, possessions (jewelry, automobiles, etc.), balls, and hierarchy of the last Imperial court. Read an excerpt of chapter one here: http://media.wiley.com/product_data/excerpt/36/04717276/0471727636.pdf
unique features:
A wealth of minute detail concerning life at the imperial court.
similar to:
Scenarios of Power: Myth and Ceremony in the Russian Monarchy TWO VOLUMES

in my opinion:
An engrossing popular read for those interested in detail.
where to find this book:
please let us know if you have discovered other sources for this book
this book profile was written by Sarah Miller