Alexander Palace Time Machine - Book Finder
Les Romanov (The Romanovs)
by Francoise Perraud
160pages
Published: 2008
Genre: Photo album
Publisher: Alan Sutton Editions
Languages: FRENCH
ISBN Hardcover: No hardcover edition available
ISBN Softcover: 9782849108239
Print Status: in print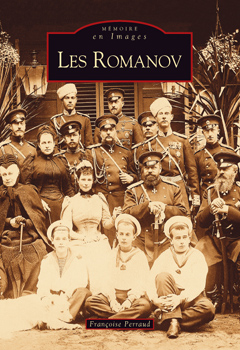 description:
An album of postcards and photographs of the extended imperial family (approx 250 images) with an explanation under each image. Covers the end of the 19th century through the abdication of Nicholas II, including some photos of the Romanov descendants through 1953.
unique features:
similar to:
Romanovs Revisited: 1860-1960
Camera and The Tsars: A Romanov Family Album

in my opinion:
While virtually all the photographs of NAOTMAA were familiar to me, the scope of this volume mirrors that of The Camera and the Tsars, with sections devoted to the Vladimirovich, Konstantinovich, Aleksandrovich, Mikhailovich, and Nikolaevich branches of the imperial family.
Overall an attractive trade paperback, likely to appeal to both speakers and non-speakers of French.
where to find this book:
please let us know if you have discovered other sources for this book
this book profile was written by Sarah Miller