Alexander Palace Time Machine - Book Finder
Summer Palaces of the Romanovs: Treasures from Tsarskoe Selo
by Emmanuel Ducamp & Marc Walter
360pages
Published: 2012
Genre: Non-fiction with extensive photographs
Publisher: Thames & Hudson
Languages: English
ISBN Hardcover: 9780500516478
ISBN Softcover: no softcover edition available
Print Status: in print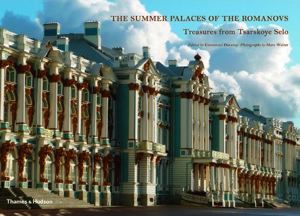 description:
From the publisher:

Specially commissioned photographs by Marc Walter and fascinating archive images capture a bygone age of Romanov splendor that will captivate art lovers and historians alike.

Situated just south of St. Petersburg, the Russian imperial residence of Tsarskoye Selo is now more than three hundred years old. Tsarskoye Selo ("Tsar's Village") was once a modest estate housing a summer residence for Catherine I, second wife of Peter the Great. The building now known as the Catherine Palace was extensively rebuilt by Empress Elizabeth and then lavishly refurbished by Catherine the Great. This empress's love of art and decoration is evident in the sumptuous interiors and in the extensive park, filled with fanciful pavilions, bridges, and monuments. Catherine also commissioned the neoclassical Alexander Palace for her favorite grandson, the future Alexander I; this later became home to the last tsar, Nicholas II, and his family until their exile to Siberia. The palace is a glorious showcase for Russian art and craftsmanship in a huge variety of materials and techniques, from the mirrors and lavish gilding of the Great Hall to the blood-red beauty of the Agate Rooms, their walls lined with Siberian jasper. Tsarskoye Selo is not only a piece of art history but a living testimony to the tastes and private passions of the Romanov family. Their clothes and porcelain, their desks and bookshelves build an intimate and involving portrait of life in imperial Russia.

340 illustrations, 289 in color
unique features:
The photographs. Big, beautiful images, ranging from panoramic aerials to closeups so crisp you can count the threads on embroidered textiles.

(The style and presentation of the photos is similar to Tsar: The Lost World of Nicholas and Alexandra, but on a grander scale.)
similar to:
Tsarskoye Selo: The Imperial Summer Residence
Aleksandrovskii Dvorets Albom (Alexander Palace Album)
Tsar: The Lost World of Nicholas and Alexandra
in my opinion:
The very best book I've seen to date on the Tsarskoe Selo complex. Even more lushly illustrated than Tsarskoe Selo: The Imperial Summer Residence, and with a much broader scope than the Aleksandrovskii Dvorets Albom. By devoting equal attention to the large- and small-scale details of the palaces and parks, this book gives a feel for the entire complex like I've never experienced before. Not to be missed.
where to find this book:
www.amazon.com
www.thamesandhudson.com

please let us know if you have discovered other sources for this book
this book profile was written by Sarah Miller