Alexander Palace Time Machine - Book Finder
Pis'ma Tsarskoi Sem'i iz Zatocheniia (Letters of the Tsar's Family from Captivity)
by E.E. Alfer'ev
543pages
Published: 1974
Genre: Documentary
Publisher: Holy Trinity Monastary
Languages: RUSSIAN
ISBN Hardcover: 73-91829 (LC card number)
ISBN Softcover: No softcover edition available
Print Status: out of print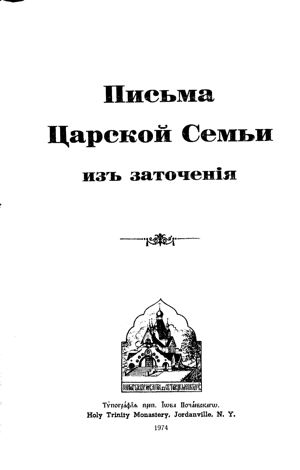 description:
A collection of approximately 200 notes and letters written by the imperial family during their captivity in Tsarskoe Selo, Tobolsk, and Yekaterinburg. (Text is printed in pre-revolutionary orthography.) Also contains a biographical index and supplemental section of prayers and poetry favored by the imperial family during their exile.
Illustrated with just over 100 B&W images -- photos, documents, maps, diagrams, etc.
(Title in Russian:
Письма Царской Семьи изъ Заточенiя)
Note: Some letters attributed to Anastasia Nikolaevna are forgeries made by Johann Meyer in connection with the Anna Anderson case.
unique features:
Contains approximately 80 short letters and notes not found in other sources*; for example, letters by Maria and Anastasia Nikolaevna to the Federovsky Lazaret.
*
Fall of the Romanovs
,
Le Tsarevitch: Enfant Martyr
,
A Lifelong Passion
,
Pered Rasstrelom
,
Skorbnaia Pamiatka
, Dehn, and Vyrubova.
similar to:
Pered Rasstrelom (Before the Shooting)
Skorbnaia Pamiatka (Sorrowful Memorial)

in my opinion:
Recommended primarily for Russian speakers and serious collectors. The vast majority of the longer letters are duplicated in Pered Rasstrelom, Skorbnaya Pamiatka, and Vyrubova.
Although the photographs of the imperial family are common and of marginal quality, there are a number of nice images of their handwritten letters and postcards not found elsewhere.
please let us know if you have discovered other sources for this book
this book profile was written by Sarah Miller