Alexander Palace Time Machine - Book Finder
Romanovs: Love, Power & Tragedy
by Alexander Bokhanov, Vladimir Oustimenko, Zinadia Pereguova, & Lyubov Tyutunnik
317pages
Published: 1993
Genre: Photo album with extensive text
Publisher: Leppi Productions
Languages: English
ISBN Hardcover: 095216440x
ISBN Softcover: No softcover edition available
Print Status: out of print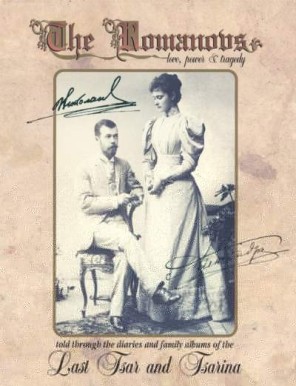 description:
Coffee table-size book featuring hundreds of formal and informal photos, complemented by essays by Russian archivists and historians. Focuses almost exclusively on the family of Nicholas II.
unique features:
Photographs of diaries, letters, and artwork of the Imperial Family are scattered throughout. Extended captions provide excerpts from the diaries and correspondence.
similar to:
Nicholas II: The Imperial Family
Nicholas & Alexandra: The Family Albums
Tsar: The Lost World of Nicholas and Alexandra
in my opinion:
A fine and - for the moment - less expensive alternative to Prince Michael's Nicholas & Alexandra: The Family Albums. Also excellent in its own right.
please let us know if you have discovered other sources for this book
this book profile was written by Sarah Miller