Alexander Palace Time Machine - Book Finder
Last Act of a Tragedy: New documents about the execution of the last Russian emperor Nicholas II
by Veniamin Vasilievich Alekseyev
334pages
Published: 1996
Genre: Documentary
Publisher: Urals Branch of Russian Academy of Sciences
Languages: English (translated from the Russian)
ISBN Hardcover: 5769103949; 978-5769103940
ISBN Softcover: No softcover edition available
Print Status: out of print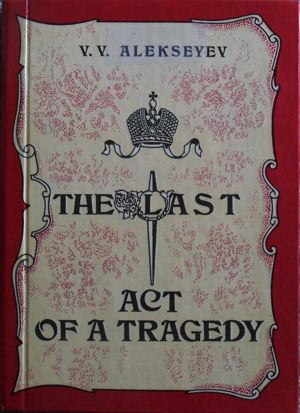 description:
A collection of documents on the incarceration and murder of the tsar's family, the discovery of their jewels, and unearthing of their remains.
Includes bibliographic references and index.
unique features:
Many documents published in English for the first time, such as the guard duty book of Ipatiev house guards.
similar to:
in my opinion:
An invaluable documentary resource, in spite of its lackluster translation.
please let us know if you have discovered other sources for this book
this book profile was written by Sarah Miler