Alexander Palace Time Machine - Book Finder
Alix and Nicky: The Passion of the Last Tsar and Tsarina
by Virginia Rounding
368pages
Published: 2011
Genre: Non-fiction
Publisher: St. Martin's Press
Languages: English
ISBN Hardcover: 9780312381004
ISBN Softcover: softcover not available
Print Status: in print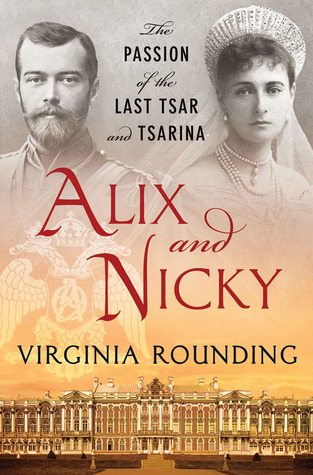 description:
From the publisher:


The dramatic story of Emperor Nicholas II and his wife Alexandra Fyodorovna, the last Tsar and Tsarina of Russia—A penetrating and deeply personal study that gives profound psychological insight into their marriage and how it shaped the events that engulfed them.
There are few characters in history about whom opinion has been more divided than the last Tsar of Russia, Nicholas II, and his wife the Empress Alexandra Fyodorovna. On one hand, they are venerated as saints, innocent victims of Bolshevik assassins, and on the other they are impugned as the unwitting harbingers of revolution and imperial collapse, blamed for all the ills that befell the Russian people in the 20th century. Theirs was also a tragic love story; for whatever else can be said of them, there can be no doubt that Alix and Nicky adored one another. Soon after their engagement, Alix wrote in her fiancé's diary: "Ever true and ever loving, faithful, pure and strong as death"—words which met their fulfillment twenty-four years later in a blood-spattered cellar in Ekaterinburg.
Through the letters and diaries written by the couple and by those around them, Virginia Rounding presents an intimate, penetrating, and fresh portrayal of these two complex figures and of their passion—their love and their suffering. She explores the nature and possible causes of the Empress's ill health, and examines in depth the enigmatic triangular relationship between Nicky, Alix and their 'favourite,' Ania Vyrubova, protégée of the infamous Rasputin, extracting the meaning from words left unsaid, from hints and innuendoes..
The story of Alix and Nicky, of their four daughters known collectively as 'OTMA' and of their hemophiliac little boy Alexei, is endlessly fascinating, and Rounding makes these characters come alive, presenting them in all their human dimensions and expertly leading the reader into their vanished world.

Illustrated with 38 black & white photos.
unique features:
Rounding focuses more sharply on the interplay between personal and political events in Nicholas II's life than any other biographer, mining both familiar and underutilized sources (such as Spiridovitch and Kokovstov) to broaden our understanding of the profound impact Nicholas and Alexandra's personalities and relationships had on their reign.
similar to:
Nicholas & Alexandra
Last Days of the Romanovs: Tragedy at Ekaterinburg

in my opinion:
Ideal for readers already familiar with the central events and characters involved in the life of Nicholas II. (The non-linear narrative and selective coverage of events presumes the reader will fill in the surrounding context.)

Long-time Romanov fans should be gratified by Rounding's ability to analyze the imperial couple's relationships and personalities without succumbing to the one-dimensional stereotypes of Nicholas the lamb and Alexandra the shrew. Rounding's insights into the role Alexandra's invalidism played in the dynamics of her personal attachments -- particularly with Anna Vyrubova -- are perhaps the high point of the book.
where to find this book:
www.powells.com
www.amazon.com

please let us know if you have discovered other sources for this book
this book profile was written by Sarah Miller